MIT builds a 3D printer that can use 10 materials at once
Researchers were able to build the printer with off-the-shelf commodity parts for $7K.

MIT's MultiFab 3D printer was build with commodity parts for $7,000 and is first to use machine vision to self-correct and embed components, saving users money, time and energy, the researchers said. Credit: MIT
MIT researchers, using off-the-shelf components, have built a 3D printer capable of building with 10 photopolymer materials at once.
And the school's Computer Science and Artificial Intelligence Laboratory (CSAIL) said the researchers were able to build the printer for less than $7,000. That compares to systems that print with just three materials at one time and can cost $250,000.
The MultiFab 3D printer works by mixing together microscopic droplets of photopolymers that are then extruded through inkjet printheads similar to those in office printers.
The printing process is computationally intensive and requires processing many gigabytes of visual data required to combine the various polymers, the researchers said.
The MultiFab 3D printer has so far only used ultraviolet-curable photopolymers -- meaning they're hardened by an LED lighting system.
"Additional materials such as co-polymers, hydrogels, and solvent-based materials can be adapted to be used within our platform," the researchers said in a paper on the printer.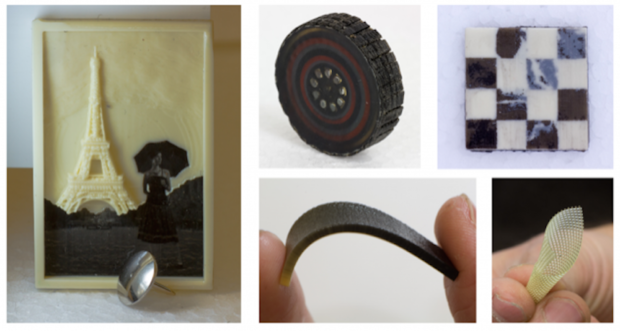 Some of the objects printed by the MultiFab 3D machine, which illustrates the wide range of materials it can use. Credit: MIT
The estimated cost of the printing materials is around $10 a pound, the researchers said.
Currently, the machine's printable materials include a rigid material (RIG), elastic material (ELA), high refractive index material (HR), low refractive index material (LR) and a support material (SPT).
Perhaps even more remarkable than the list of materials is the MultiFab 3D printer's ability to self-calibrate and self-correct during a print job. The printer has an integrated machine vision system that automatically readjusts the printer head if errors occur, rectifying the build before a problem ruins the object.
The MIT researchers said their 3D printer is made exclusively from low-cost, commercial off-the-shelf components. The use of a computer vision feedback loop simplifies the design and compensates in software for hardware deficiencies.
"Our system also pioneers inexpensive and safe LED curing (no other 3D printer we know of uses it) and a simple material feeding system. Our system adapts consumer printheads for polymer 3D printing," the MIT group wrote in a research paper. "This is achieved by optimizing the printhead waveform for each material and each droplet size separately."
Terry Wohlers, lead analyst with market research firm Wohlers Associates, said the MultiFab is a photopolymer material jetting system, somewhat similar to what is offered by Stratasys. Machines from Stratasys start at around $111,000.