Microsoft-Qualcomm deal finally puts Windows 10 and Win32 apps on ARM devices
Think of it as Windows RT 2.0, but done right.
"Technically, there are really two things that are unique about Windows Mobile," Myerson said, when ZDNet reporter Mary Jo Foley asked him about the future of its Windows Mobile operating system. "One is cellular connectivity and the other one is the ARM processors that are there."
"So we're going to continue to invest in ARM and cellular," Myerson continued. "And while I'm not saying what type of device, I think we'll see devices there, Windows devices, that use ARM chips. I think we'll see devices that have cellular connectivity." (Microsoft is also expected to announce today that it will begin selling cellular plans for WWAN-connected PCs through the Windows Store.)
The new Qualcomm-powered PCs will be able to join corporate domains, making them more than just consumer devices. The message is clear: The line between Windows 10 Mobile and Windows 10 for desktop PCs is blurring—but just not how we originally thought it would.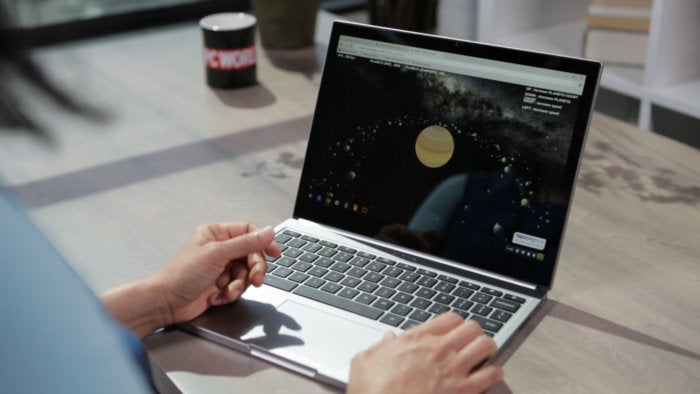 The original Google Chromebook Pixel offered integrated cellular WWAN, but it was rarely used and dropped in later models. Microsoft apparently wants to change that.
Performance is priority one
Hearken back to 2008, when Asus and others tried to market a range of Atom-based PCs—and they largely flopped. Even recent Atom-powered products like the Asus Transformer Mini balk at heavy workloads. Consumers have turned back to Intel's Core chips (or Core m) instead.
That's what makes X86 emulation, at least on paper, a risky proposition. Emulation takes an instruction written for an X86 chip, intercepts it, and translates it into the chip's native instruction set. In practice, emulation can slow the chip's apparent performance considerably, as Transmeta learned in 2008.
That startup challenged Intel with its line of Crusoe chips, which emulated the X86 architecture at slower speeds, while offering considerable power savings. But Intel responded with its own line of low-power chips, largely maintaining its performance. That killed Transmeta's competitive advantage, and the company eventually went under.
Now, Microsoft seems to believe the performance of the Snapdragon 835 justifies its investment. Qualcomm hasn't said much about the 835 specifically, but the company has said that simply shrinking to a 10nm manufacturing process can improve performance by 27 percent and battery life by 40 percent, compared to the company's prior generation of 14nm chips. Below, Microsoft released a video showing off how the current Snapdragon 820 runs Windows 10 Enterprise, via its emulator.
Microsoft itself crafted the X86 hardware emulator, according to industry sources. The emulator software attempts to minimize any CPU overhead by handling only CPU calls. Instructions sent to any associated storage, I/O, or GPU are all handled natively by those components, the company said. One source said Adobe's Photoshop, one application Microsoft is expected to show at WinHEC, apparently runs well.