Meet the DxO One, a tiny DSLR-like camera that attaches to your iPhone
This pocket-sized gizmo packs a 20.2-megapixel sensor, shoots in RAW, and accommodates microSD cards up to 128GB.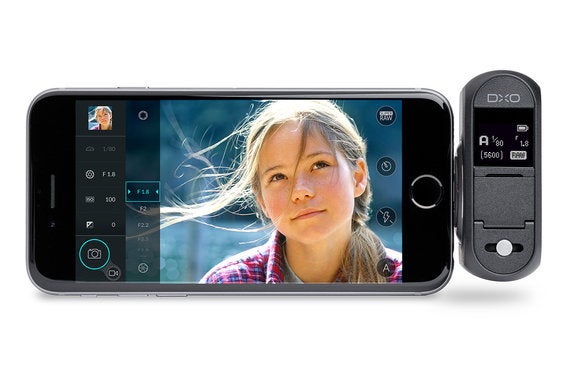 The iPhone quickly became my camera of choice as soon as I got an iPhone, and as its abilities have advanced, I've been happy with its performance. Of course it has limitations-low light photos are always difficult-but the tradeoffs have been worth it for the ability to take decent photos with a small, lightweight, connected device that I'm almost always carrying anyhow.
DxO wants to provide the best of both worlds: The convenience of shooting photos with your iPhone, with the image quality and RAW formats of a DSLR. The just-announced DxO One is a compact camera that attaches to your iPhone's (or iPad's) Lightning connector, so you've got an external lens, a real shutter button, and even space for a microSD card, but you compose shots and tweak settings on the iPhone's nice large screen.


DXO
The compact DxO One aims to add a DSLR-quality lens, a real shutter button, and RAW support to your iPhone or iPad.
The aluminum device is only 2.65 inches tall and weighs just 3.8 ounces, so you can easily drop it in a pocket when you're not using it. The lens is a f/1.8, 32mm equivalent aspherical lens with a variable 6-blade iris and a 1-inch, 20.2MP CMOS BSI sensor, which DxO says will help it capture great images even in low light. Once attached to your iPhone or iPad, the camera can still pivot up to 60 degrees up or down. And since the Lightning plug is reversable, you can also face the camera toward you for selfies.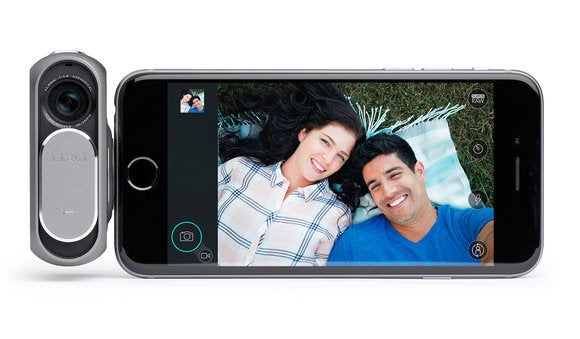 DXO If you love taking selfies and don't mind spending $599 on a device that makes them easier to compose while keeping the very best image quality, the DxO One might be your dream come true.
An iOS app lets you control the camera's settings. You can adjust aperature from f/1.8 to f/11, shutter speed from 15s to 1/8000s, and ISO from 100 to 51200. Modes include Auto, Speed, Aperture Priority, full Manual, and several scene-specific options, and the camera interface adapts to each mode. Want to record video? No problem: Choose from 1080p at 30fps or 720p at 120fps.
The DxO One shoots in RAW format by default, producing DNG files you can use in Lightroom, Photos for OS X, and other editors. But this camera also sports DxO's brand-new SuperRAW format, producing propreitary DXO files currently supported by DXO Connect, DxO FilmPack, and DxO OpticsPro software for Mac and PC. (DxO Connect is included, and for a limited time the camera comes with licenses for DxO FilmPack and DxO OpticsPro as well.) DxO told me it was "engaging with Adobe, Apple, and Microsoft" to negotiate native support for the format.