Meet Avalon, Asus's audacious, tightly integrated vision for the future of DIY PCs
Asus ROG's Avalon concept PC makes a compelling case for rethinking the basic bones of computer design.
The bays you see on the front of the Avalon concept PC house hot-swappable storage, which makes switching out SSDs as simple as switching out floppy disks. The storage capabilities reside on a daughter card that connects directly to the motherboard inside.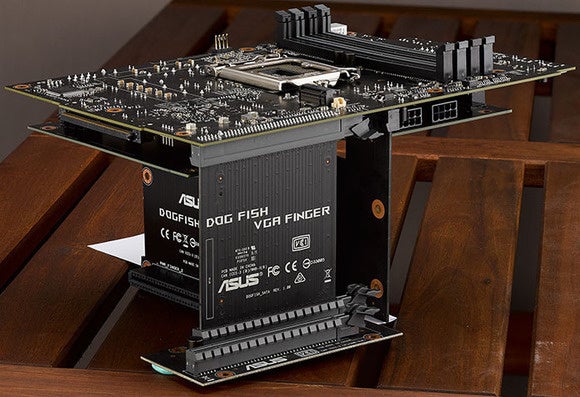 The Avalon motherboard with various daughter cards connected at the bottom. Funky!
High-powered graphics cards are the one component that still requires additional power cabling inside Avalon, though Asus says it's possible to rework graphic card design to function with edge connectors, instead. GPUs reside in their own compartment at Avalon's outer edge, blowing hot air out through the ventilated edge of the PC.
The motherboard features an integrated backplate with threaded holes so that you can connect aftermarket CPU cooling solutions directly to it. Asus hopes that the voltage regulator modules on the motherboard's underbelly can be connected to the chassis to have the case itself act as a heatsink for the system. That's a trick that some small form factor and silent PC cases already perform—and one that plays neatly into the Avalon's integration concept.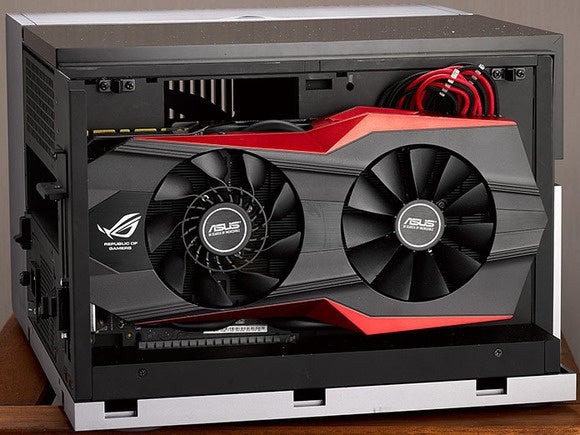 As a concept PC, there's no pricing or release date information tied to Avalon, though Asus says it's "right on the edge of what's possible." The prototype certainly seems like a compelling idea, at least in theory, and still manages to embrace DIY potential despite its tighter overall system integration. That said, part of the reason that PCs have stuck to traditional designs for so long is because the usual case-motherboard-power supply-add-in card design works so well, and it resists hardware lock-in. Tying motherboard design so tightly to the case plays well to Asus' jack-of-all-trades strengths, for example, but it might leave more specialized hardware vendors like EVGA out in the cold.
What do you think? Asus wants to know. Now that it's revealed Avalon to the world, the company's looking for feedback from the industry and PC enthusiasts.
Via PC Perspective