Meet Avalon, Asus's audacious, tightly integrated vision for the future of DIY PCs
Asus ROG's Avalon concept PC makes a compelling case for rethinking the basic bones of computer design.
The PC's DIY hardware ethos is both a blessing and a curse on computing. On one hand, the open ecosystem fuels innovation and serves as a major selling point for enthusiasts. On the other, the basic design of PCs hasn't really changed in decades. You slot motherboards, storage, and various add-in cards into a case and wire them up. That underlying structure helps sustain the universal natural of PC hardware—but now Asus' Republic of Gamers brand thinks it "can do better."
At Computex 2016, Asus ROG showed off its Avalon concept PC, a computer that tightly integrates all aspects of the PC for a redefined design, but still supports the platform's DIY strengths. The end result is a creation largely devoid of wires and something that looks more like a premium stereo system than a traditional computer.
Oh, and "Unlike the purely aspirational concepts often see in the tech industry, this prototype is a working system built on existing technologies that are viable to put into mass production," Asus says. Shots fired, Project Christine.
Inside Asus Avalon
The Avalon design taps into Asus' expertise in creating virtually every major PC hardware component. The main thrust ties the motherboard more closely to the case itself, rather than having them exist as two fully individual elements—though Asus says "That's not to say that boards have to be inexorably tied to specific cases, just that closer collaboration creates interesting opportunities."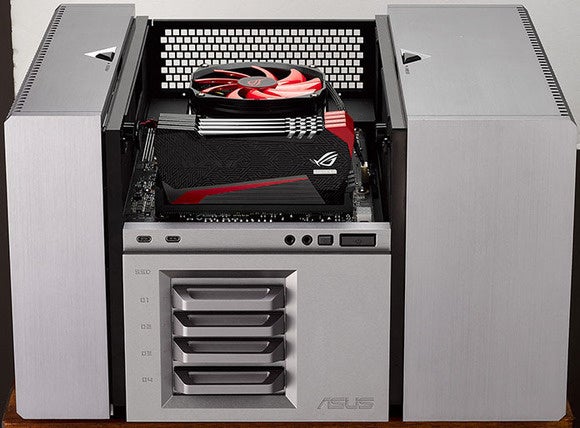 One major advantage to that is port flexibility, Asus says. Avalon's motherboard extends right to the front of the case, so various ports and indicators can be built right into the motherboard and appear on the PC's face, rather than needing to be connected to the front panel with extenders and extra cables.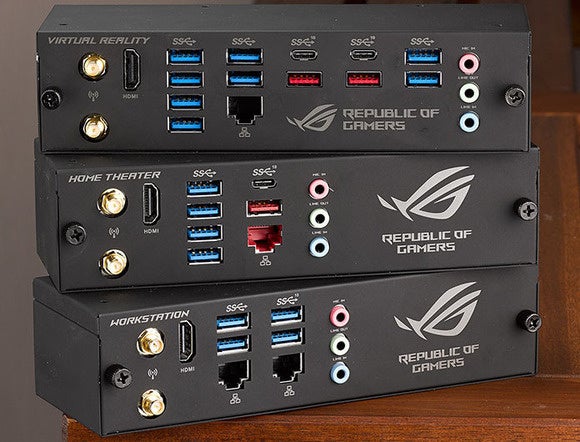 Swappable rear I/O panels for the Asus Avalon concept PC.
Meanwhile, the rear I/O panels are modular components of their own inside Avalon. In other words, you can swap them out to create a Frankenstein that meets your individual needs, rather than being limited to a selection of ports hardwired into your motherboard, as is the case with traditional PCs. "VR rigs require additional USB ports to connect headsets and controllers, workstations often need faster networking and redundant ports, and home-theater PCs can benefit from upgraded audio," says Asus.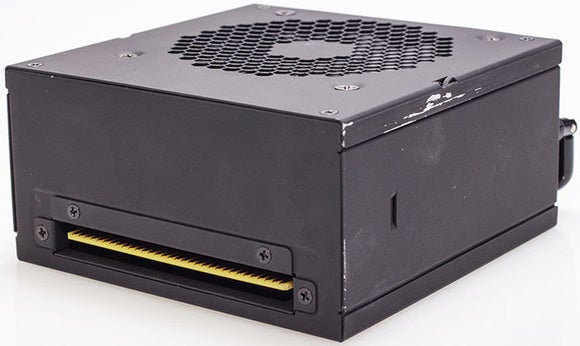 The custom 600W power supply Asus created for the Avalon concept PC features an edge connector rather than cabling.
Those rear I/O panels connect to the Avalon's motherboard using a PCI-E-based "edge connector." Asus relies on edge connectors throughout to make the Avalon as wire-free and hassle-free as possible; the company even created a 600-watt small form factor power supply for the concept that relies on that simple PCI-E connection rather than the traditional rat's nest of power cables. All power to secondary hardware flows through the motherboard itself.