Logitech G933 review: This wireless headset is so good, you can skip its high-end competition
If you can't stomach the price tags for the Astro A50 and SteelSeries Siberia 800, Logitech has you covered.
The design is a gorgeous bit of engineering, albeit pretty useless. With headsets that I can use as decent street headphones, like the Polk Striker Pro, having a detachable or foldable microphone is useful. The G933 is so bulky, though, that I doubt I'd wear it away from my computer. The microphone style speaks to Logitech's ingenuity more than practical application.
A more useful design aspect is convenient storage of the USB dongle, given that I've misplaced wireless dongles in the past. You just pop off the plastic plate on the left ear cup. The right plate also pops off, in case you want to replace the G933's battery in the future.
Rounding out the design, the bottom of the left ear has a micro USB charging port and a 3.5mm analog jack. You can use the latter to plug the G933 into a phone, gamepad, or whatever—no battery required, though you'll lose out on the lighting. But again, I wouldn't wear these on the street. They're big and goofy, despite Logitech's improvements.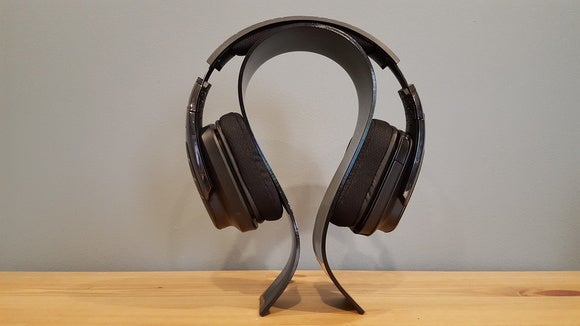 My one and only problem with the G933, and a reason for some of you to stay away: It's tight. The fit gets better the longer I wear it, but this headset still tends to vice-grip my head and leave me sore after a few hours of use. Corsair's Void Wireless slips around more, but feels more comfortable—as does the Astro A50, if you're willing to stomach the jump in price.
Bone rattlers
The G933 certainly sounds good, though. Running the default "Flat" stereo setting, it's a moderately bright, punchy headset. I could do with a bit more low-end—and I did adjust that immediately by utilizing the "Drop the Bass" (eye-roll) EQ setting, and then tweaking from there.
But the G933 is a solid setup. The oversize ear cups give audio plenty of room to breathe in both gaming and non-gaming environments. Music sounds surprisingly good, too, though I'd still give the edge to the Astro A50 or HyperX Cloud (or any number of actual headphones).
Like most headset manufacturers these days, Logitech touts G933's 7.1 capabilities. I'll give them this: The G933 has better simulated surround sound than most. Unlike some notable competitors (I'm looking at you, Corsair), enabling surround doesn't ruin the G933's sound. There's little noticeable distortion, and in some games (Battlefield, for instance), it even does a serviceable job emulating surround.
But those moments are few and far between, and even a "pretty good" implementation of surround sound in a headset doesn't really measure up to even the weakest of real-world, multi-speaker setups. I ended up leaving the setting off most of the time, because it either added very little or actively detracted from what I was listening to: for instance, muddling sounds together and creating a jumble of noises or hollowing out the center channel. The G933 in stereo is good enough as is.