Logitech G933 review: This wireless headset is so good, you can skip its high-end competition
If you can't stomach the price tags for the Astro A50 and SteelSeries Siberia 800, Logitech has you covered.
Logitech has been pushing hard to win back the gaming crowd in recent years—and I'll be damned if the G933 isn't one of their best shows yet.
How good? Well, I'd probably save a $100 (or more) and take this headset over our long-standing high-end recommendation of the Astro A50 and the SteelSeries Siberia 800, barring a few exceptions. Indeed the G933 can currently be found on Amazon for well below its MSRP.
Modern looks
As an update to Logitech's G930, the G933 sports a familiar look. It's got the same bulky air traffic control heft, the same coffin-shaped earcups instead of traditional round ones. It's easily identifiable as the heir to Logitech's old gaming headset.
Nevertheless, the G933's been prettied up.
Logitech has added RGB lighting, of course. Like the rest of the company's modern lineup, the G933 sports full 16.8 million color profiles for the strips of lighting on the rear of each ear and the lit-up logos on the facing sides. Sure, it's pointless. But it looks good, and Logitech continues to offer some of the best lighting in the industry.
But illumination aside, the G933 is simply a sleeker headset. The G930's ears were particularly ugly, a flat slab of matte-finish plastic saddled with the old, very-corporate Logitech logo and some chunky controls.
The G933 ditches that enterprise look, and instead features a less obtrusive logo (and logo placement), as well as some decorative accents that give it a lighter aesthetic. Some of it's strange and a bit overdone—like a scattering of decorative triangle shapes inside the headband—but for the most part, these changes help the G933 look more like a modern headset and less like a relic of the '90s.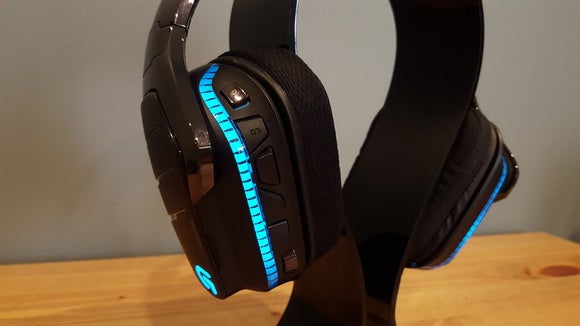 The G933 also moves its buttons to the rear of the headset, which helps with its clean, uncluttered look. All controls sit along the back of the left ear, and each has a unique shape for easier memorization if that's your thing. You can control the power via a switch, toggle the EQ setting, turn surround sound on or off, cycle the lighting effect, mute the microphone, and adjust the volume. You can also reprogram the three "G" keys in the middle (labeled G1, G2, and G3) with a ton of other preset commands—or entire macros, if you prefer.
Also on the left ear is the microphone, though you might miss it at first glance. It retracts and folds directly into the earcup, making it practically invisible—but then folds down like a normal boom microphone and extends out so you can bend it towards your mouth.