Logitech Circle review: This camera puts more emphasis on 'home' than 'security'
The webcam manufacturer's first security camera feels like a work in progress.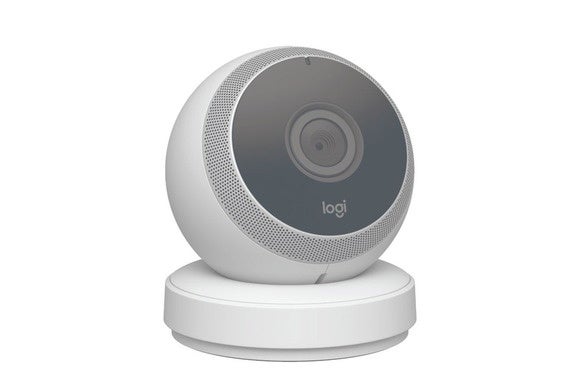 Logitech is no stranger to the swelling home-security market, having marketed the WiLife and then the Alert series of cameras (both of which have since been discontinued). The company is now taking another stab at the market with the $200 Circle. But while this camera is priced to sell along side other home-monitoring cameras, its lightweight security features make it more suited for capturing precious moments than bad guys.
What you get
Given Logitech's years of experience making webcams, it's not surprising the Circle doesn't stray far from that design style. The pod-like camera is about the size of a tennis ball and sits on a charging dock and ring-shaped magnetic mount. As this last piece can also be screwed into a wall, the Circle can be placed on virtually any horizontal, vertical, or other-angled surface. Aside from the activity light—which shines white when the camera is watching—there are no buttons or other adornments on the camera.
The ball portion of the camera can swivel 360 degrees without losing contact with its charging base and pivot up and down. It's recommended that it remain plugged into a power outlet, but it does have an onboard battery Logitech claims is good for about three hours (12 hours in low-power mode), so surveillance will be uninterrupted in the event of a short power outage or an intruder cutting your home's electricity.
As the Circle's 135-degree lens monitors the environment, the camera streams live video to your smartphone in 720p HD resolution with 8x digital zoom capability. In low-light, the camera can switch to infrared night vision with a range of up to 15 feet. A two-way audio system lets you remotely communicate with pets, children, or anyone else in your home.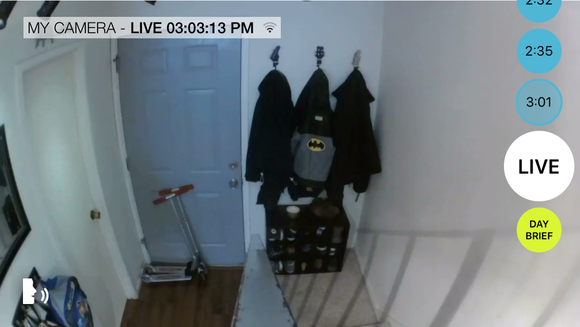 The Circle's magnetic mount lets you place it virtually anywhere, even on a metal staircase railing. A scrolling activity log tracks motion events.
When the Circle detects motion, it starts recording and pushes a notification to your phone. You then have 24 hours to review the motion event and have the option to save the event locally to your phone for later viewing. Lest you think you're going to get an alert every time your kitchen curtains flutter or there's a change in daylight, the Circle features a technology called Scene Intuition which extracts objects, people, and faces, from the monitored environment while filtering out unwanted motion triggers, such as moving leaves.
Another feature called Day Briefs eases the headache of slogging through hours of surveillance footage. Using Scene Intuition, the Circle rounds up the day's most "interesting and important" events and generates a 30-second timelapsed highlight video so you can easily digest all the day's action.