LG 360 Cam review: Every aspect needs more work
LG's 360-degree camera is finally for sale, but LG has quite a few kinks to work out before the camera is worth its novelty.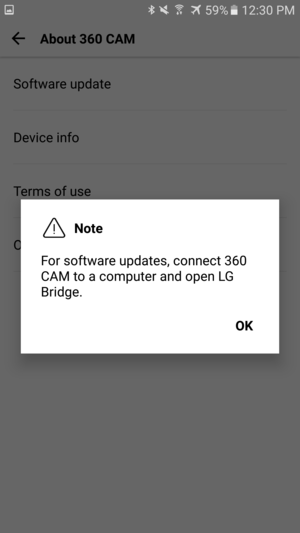 The 360 Cam manager prompts you to download another client to update the device.
I thought maybe the latest software update would fix my predicament, but lo and behold, you can't even update the 360 Cam through the smartphone app. Instead, you have to download the LG Bridge software for your PC or Mac, connect the device, and then manually upload it. LG should reconsider the logistics of getting the device updated because this isn't user-friendly. It took me about half an hour to get the 360 Cam updated—and the live view finder still isn't working on either of the aforementioned devices.
It just needs more work

The 360 Cam's $200 price tag is inviting, but it seems like it's because it skimps out on quality.
It's not easy taking video or stills with a 360-degree camera. For instance: If you want only scenery in your final output, you have to find a way to eliminate yourself from the frame. And if you're shooting video, you need to remind everyone who might be standing around that they're being recorded. After all, the camera "points" everywhere, and most people won't understand their antics are being captured for eternity.
But these are just universal problems for entry-level VR. The 360 Cam has its own issues, including a buggy companion app and sub-par shooting capabilities. I like the idea of making my own pan-able VR-like content for my friends and family to view online, but I expect better image quality for the $200 price tag.
For now, the 360 Cam isn't a complete answer for even low-level VR content creation. You can make some neat videos with it, but that novelty wears off quickly, and the camera's frustrating performance made me reach for my traditional smartphone camera again and again.
Previous Page 1 2 3