LG 360 Cam review: Every aspect needs more work
LG's 360-degree camera is finally for sale, but LG has quite a few kinks to work out before the camera is worth its novelty.
Content is difficult to share
When I'm hiking in a location as beautiful as Big Sur, I expect to be able to share everything I shoot with the masses. Fortunately, I can export the videos I took with the 360 Cam to Facebook and YouTube, though they're currently the only services that are compatible with LG's pan-able content (not even Google Cardboard, an entry-level VR headset, supports the 360 Cam's video). You can pan around one of my YouTube videos here.
But when it comes to sharing the LG Cam's 360-degree still images, they're barely even supported on the web. You can upload your images to Google Photos or Flickr, or as a Photo Sphere with the Google Street View app, but that's about it. I tried uploading a still to my Facebook page to see if the social network would embed it as a 360-degree photo, but no dice.
My friends were more interested in the video I posted afterwards because they could actually interact with it. But I'm not always keen on posting video, and I'd rather have a pan-able, still image of scenery on Facebook instead.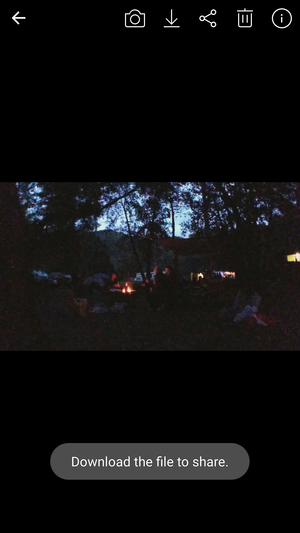 Sorry: you have to download a file to share it, and in some instances, preview it.
Also, LG needs to fix the fact that the application won't let you export anything directly from the device itself. It's odd. You have to download the file before you can share it externally, and they're huge files! For example, a 18-second video took up about 40MB of space—and that's just crazy.
The app lacks features
LG packed in features like manual camera controls, the ability to switch between a 180-degree and 360-degree field-of-view, and a live view finder. OK, fine. But to get to these options, you have to use the 360 Cam Manager app, which could have used a little more time in the oven.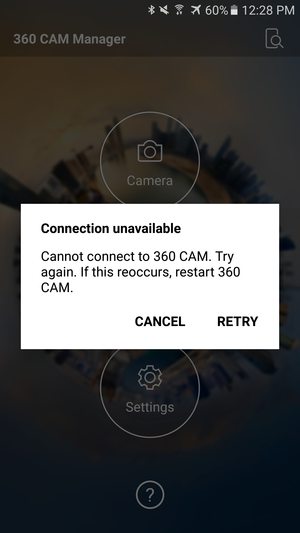 This error kept popping up when I tried to connect the 360 Cam to the Galaxy S7.
First off, the 360 Cam uses Wi-Fi Direct rather than Bluetooth. This is great for faster data transfers, but I had a frustrating time connecting the camera to the app. The app doesn't seem to know when to switch Wi-Fi networks, and I had to manually turn off Wi-Fi after downloading an image, and then force the phone to use its cellular connection for an upload. Shouldn't the app know to do this all on its own?
Because of the app connectivity problems, I frequently found that I couldn't set up the camera to shoot in anything save its default settings—which means shooting in a full 360 degrees. At one point, I just gave up, shoving the 360 Cam in my tent because I couldn't get the device to connect to either a Galaxy S7 or Nexus 6P. It's now been two weeks since the camping trip, and I'm still having trouble getting the live view finder to work on either of those devices.