Lenovo ThinkPad X1 Yoga review: This 2-in-1's OLED screen will color your computing world
This laptop delivers rich colors and top-notch performance.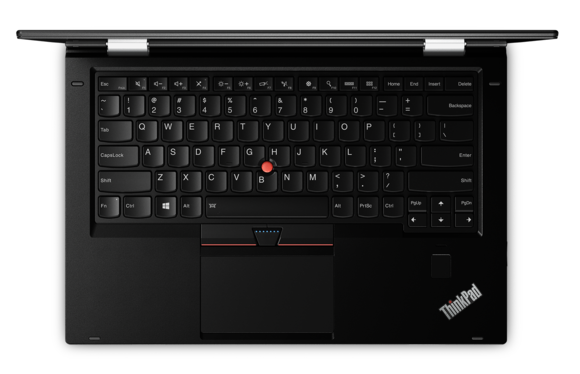 And overhead shot of the X1 Yoga's fantastic sculpted-key keyboard.
Despite the short amount of travel in its sculpted keys, the keyboard feels fantastic to type on. Each key press delivers a firm, decisive finish, as does the clickpad, and the latter's surface feels velvety when you slide your fingers across it.
For its part, the eraserhead-like TrackPoint responds well. Its companion set of left- and right-click buttons found just below the keyboard function smoothly, though the clickpad offers slightly sharper tactile feedback.)
Performance
The X1 Yoga performed about as we expected for a machine with its specs and slim profile. In short CPU-based tasks, like our Cinebench R15 benchmark, its Core i7-6600U part can give a small boost in performance over Core i5 parts. Its score of 299 marks a roughly 3-percent gain over ultraportables with a Core i5-6200U processor (currently one of the more common parts in ultrabooks). That said, the Surface Book still manages to hold its own running a Core i5-6300U CPU.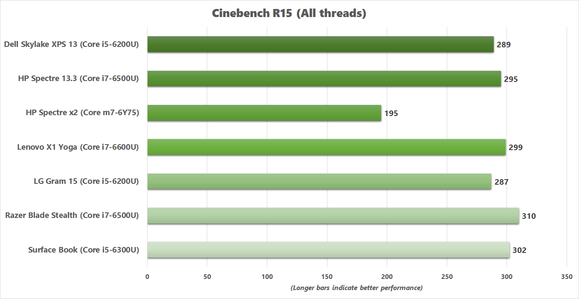 The thinner the machine, the more challenging it is to keep the processor cool—particularly if fan noise is a concern. Many thin laptops stay quiet by throttling CPU performance under heavy prolonged use, and our Handbrake test tells the tale.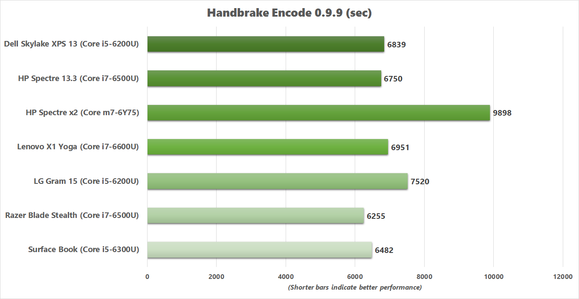 This benchmark, which involves converting a 30GB MKV into a MP4 on the Android Tablet preset, is a torture test for ultraportable systems like the X1 Yoga. Lenovo's OLED beauty dropped from a clock speed of 3.18GHz to a steady 2.78GHz after core temperatures rose and stayed at 72°C for several minutes. Still, it didn't throttle as heavily as some systems with even greater thermal constraints (like the LG Gram 15) do—it still performed roughly in the same range as the Dell XPS 13 and HP Spectre 13.3.
Of course, the X1 Yoga isn't what you buy for content creation. Most people in the market for a thin-and-light just want to surf the web or watch a movie. In our PCMark8 Work Conventional benchmark, which simulates simple office work—document creation and editing, web browsing, and video conferencing—the X1 Yoga scored 2,685. That's actually slightly lower than some Core i5 systems, like the XPS 13, but in actual use, most people won't notice much of a difference when writing an email, adding some basic data to a spreadsheet, or browsing a website for office supplies.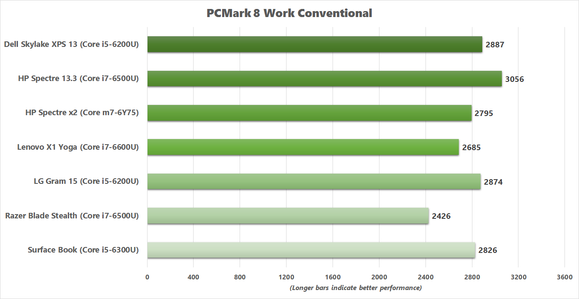 Previous Page 1 2 3 4 Next Page