Lenovo ThinkPad X1 Yoga review: This 2-in-1's OLED screen will color your computing world
This laptop delivers rich colors and top-notch performance.
Rich, vibrant color. Real black. You don't realize how much you've missed them until they pop up again, as they do on Lenovo's new X1 Yoga. I can't overstate just how much nicer its OLED display looks compared to the cold LCD screens we've grown accustomed to. The images Lenovo sent us don't come close to doing it justice, so you'll have to trust us—or take a look yourself at a live unit.
Design and specs
The vehicle for this excellent technology, the X1 Yoga, is a riff on the X1 Carbon, and it sports several notable improvements. It has an active pen/stylus on board, a larger array of ports, and you can fully rotate the display to use the laptop in orientations from tablet to tent to traditional clamshell. Lenovo refers to all this as being Yoga-ized, which definitely sounds more appealing than a Yoga being carbonized.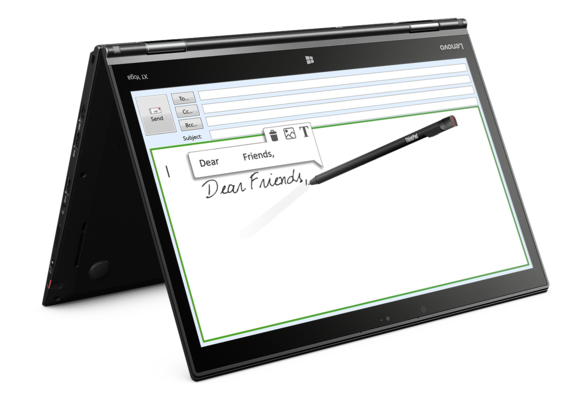 The X1 Yoga in tent mode, with an invisible hand using the stylus to input text.
If you're familiar with the Carbon and Yoga series, or Lenovo in general, the X1 Yoga's won't surprise you. It comes dressed in black, with the usual hints of red on the eraserhead cursor control and the top set of touchpad buttons. Splashes of silver distinguish the display hinges and the logo.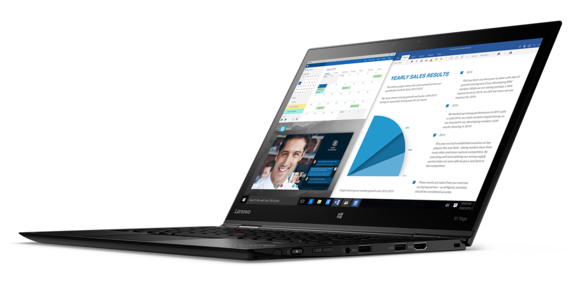 The X1 Yoga open as a normal laptop.
The X1 Yoga weighs about 2.8 pounds, and measures approximately 13 x 9 x 0.66 inches. The display is that fantastic 14-inch, 2560x1440 RGB OLED that I've already gushed over. The fact that it's RGB is a nice feature: It means there are no white sub-pixels used to brighten the display. You get just red, green and blue. It's the best and most expensive type of OLED.
Inside our $2,544 review model is a Intel Core i7-6600U CPU, 16GB of LPDDR3/1866MHz RAM, and a 256GB Samsung SM951 PCIe-NVMe SSD. An Intel 8260 wireless card provides 802.11ac Wi-Fi and Bluetooth 4.1.
The port selection is probably the only area of disappointment with the X1 Yoga. It does have three USB 3.0 ports (one always-on for charging), full-sized HDMI, mini DisplayPort 1.3, microSD and SIM slots on the back, plus Lenovo's OneLink+ docking connector. But we were also hoping to see USB 3.1 (either Type A or Type C) or Thunderbolt. These modern additions would've taken the X1 Yoga from fantastic to awesome.
Input ergonomics
The X1 Yoga's keyboard, clickpad, and Trackpoint run smoothly. Very smoothly.