Laptops are about to get a whole lot faster
SSDs will offer as much as 10X the speed of HDDs
In 2013, Apple announced it would offer a Macbook Pro with a PCIe SSD that had astoundingly fast 1.25GBps read and 1.0GBps write speeds. By comparison, a top-rated laptop SSD using a SATA II interface tops out at about 550MB/sec, about half that of the PCIe flash Apple was using. When it comes to hard drives that are pervasive today in laptops, there's no comparison. SSDs are up to 10 times faster.
In 2015, Apple launched the new Macbook Pro with a PCIe SSD in it and it proved twice as fast as the previous model.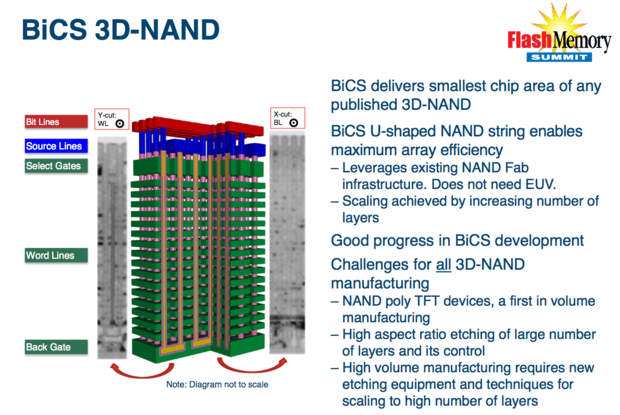 Toshiba and SanDisk's Bit Cost Scaling (BiCS) 3D vertical NAND design stacks 48 NAND cells one atop another like a tiny skyscraper.
Other laptop makers have followed Apple's example and have begun to make thinner, faster machines using PCIe SSDs.
In the SSD interface market, major PC-OEMs have just started to adopt PCIe in the second half of this year, Chen said. Meanwhile, most of the demand in the channel market is still for SATA III.
DRAMeXchange expects SATA III to remain the popular interface type for client-grade SSDs in 2016. In contrast, PCIe is projected to account only for 20% of the client-grade SSD market this year, showing a slight increase from 2015.
Previous Page 1 2 3