Laptops are about to get a whole lot faster
SSDs will offer as much as 10X the speed of HDDs
Along with its manufacturing partner Toshiba, Western Digital announced its latest generation of BiCS technology stacks 64 layers of microscopic NAND layers atop one another, vastly increasing memory density.
In fact, for the first time in history, SSD densities surpassed those of HDDs earlier this year.
Both Samsung and Micron demonstrated areal densities in their laboratories that far outstripped HDDs. Micron revealed a density of up to 2.77Tbpsi (terabits per square inch) for its 3D NAND. That compares with the densest HDDs of about 1.3Tbpsi.
"Though there was a supply shortage and a sharp price hike for TLC flash memory during May and June, SSD shipments to the worldwide channel market registered a 12% sequential increase in the second quarter. Increase in work days and manufacturers having sufficient inventories resulted in the above-expected quarterly shipment result," Chen said.
"On the other hand, 3D NAND flash based on the MLC architecture is not as competitive in terms of production cost, so its market share in the overall 3D-NAND Flash market will be small," he continued. "Its application will also be limited to high-end storage products."
DRAMeXchange's data shows the SSD adoption rate in the notebook market for the second quarter was 32% to 33%. Total shipments of client-grade SSDs for the period hit 28.3 million units, translating to a quarterly growth of 15% to 20%.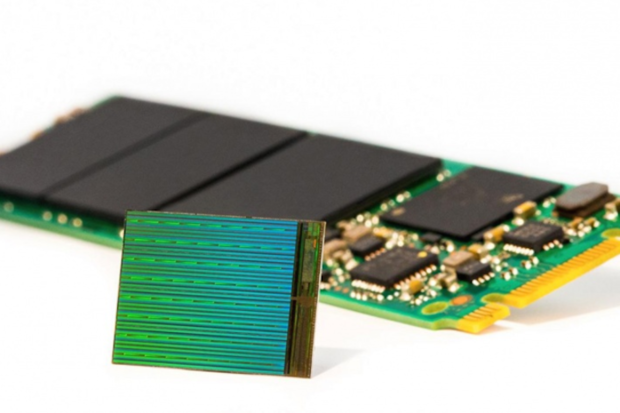 Intel and Micron's new 3D NAND flash will enable 3.5TB of capacity in an M.2 expansion stick.
For the current third quarter, NAND flash will be in short supply and TLC Flash memory prices will remain high, so increasing SSD shipments to PC OEMs will come at the expense of shipments to the channel market and vice versa. DRAMeXchange projects that the total client-grade SSD shipments for the period will increase by just 2% to 3%.
TLC SSDs are expected to become the mainstream memory architecture for 3D NAND SSDs, further increasing bit density and lowering costs to produce the memory. PCIe-attached SSDs are expected to show marginal growth this year, according to DRAMeXchange.
A faster SSD interface
Another technology driving SSD use in notebooks is the PCIe, or peripheral component interconnect express, interface. PCIe is a high-speed serial expansion card format that uses a point-to-point architecture, meaning it offers vastly better performance over typical SATA-connected SSDs because of the direct connection to a computer's motherboard. There's no translation layer required.
Not only does placing the NAND flash on the memory board make for a faster I/O interface, but it also reduces the size of the medium from 2.5-in hard drive form factor to a flat board no bigger than a couple of postage stamps.