JBL Charge 3 Bluetooth speaker review: Play all day, play all night
A whopping 20-hour run time, IPX7 waterproofing, and thumpy bass highlight this outdoor Bluetooth speaker from JBL.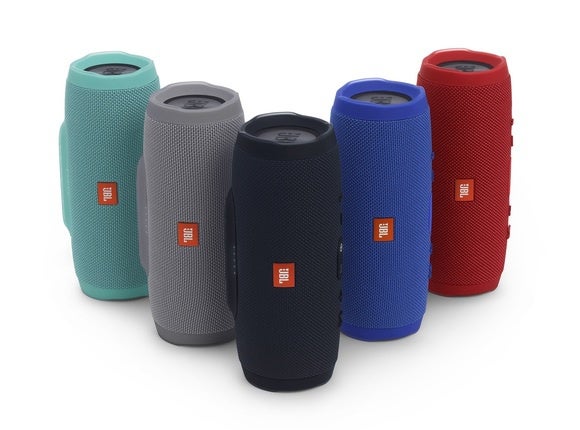 JBL has been one of the bigger names in portable Bluetooth speakers for a while now. In fact, the Charge 3 that's the subject of this review is actually the fourth iteration: There was the original, the Charge 2, and the Charge 2+ previously. Throughout it's all been about good sound and outrageous battery life.
The Charge 3, with its 22.2 watt-hour battery, can run for an outlandish 20 hours. That's probably going to outlast all but the hardiest partiers by a long stretch. Me? By about 18 hours.
Design
The Charge 3 I kicked the tires on was red, but it's also available in attractive shades of aqua, dark blue, black, and light gray. It weighs in at around 1.76 pounds, and it ships with a USB charger and micro-USB cable. The actual dimensions are 8.3 inches long, and about 3.5 inches in diameter, but I was thinking of a slightly fat, rubber-covered thermos when I stood it on end. Excuse me "modern materials", not rubber.
The front of the Charge 3 with its highly recognizable logo.
There's a slightly extended flat area on the "bottom" of the Charge 3, so that the unit doesn't roll about. Along the front edge of said flat area is a five-LED battery charge indicator, which you can see best in the next image. On the back are a micro-USB jack for charging the Charge 3, a standard USB port for charging other devices using the speaker's battery, and an 1/8-inch jack for analog audio input. These are covered by a snug-fitting plug to keep water out. The controls are on top: volume up and down, Bluetooth pair, power, play/pause, and almost infinite (I'll explain that later).
The unit's IP (International Protection Marking) waterproof rating is IPX7, which means you can submerge it under one meter of water for 30 minutes. Why you'd want to do such a thing is beyond me, but I haven't been a teenager in a while. I get floating it about, or diving to the bottom of the pool for five seconds, but half an hour?
More importantly, you can put liquid on the sound-radiating diaphragms on either end, and then watch it spray. Or you can watch the patterns ripple across the water as it floats. That's a guaranteed two minutes of amusement right there.
A front profile of the Charge 3 styled in ominous black. The controls are on the top and the ports on the back in this orientation. Note the charge indicator at the bottom.