Intel's Kaby Lake chip is a must-have for 4K video fiends
Intel's Kaby Lake chip brings a modest bump in performance and some amazing video optimizations, as the third chip on the company's aging 14-nm process.
Kaby Lake's new video block makes real-world sense
The other important aspect of Kaby Lake is Intel's transition to a new video engine. According to Chris Walker, the general manager for mobile client platforms at Intel, the web's content platforms are moving to HEVC and VP9 for video encoding and decoding-and at higher resolutions. Skylake accelerated 1080p HEVC encoding and decoding natively in hardware, but it lacked dedicated support for 4K HEVC encoding/decoding at 10-bit depths, or VP9 decoding-two things that Kaby Lake does natively in hardware.
These advances are important for the same reason that Netflix and Google have led the way toward using both codecs: They provide equivalent video quality at a fraction of the bandwidth, especially as 4K video becomes more widespread. On Monday, for example, Netflix performed an in-depth technical examination of three of the most popular video codecs. Netflix found that HEVC delivers all of the video quality of the older AVC codec that Skylake supported, but at 50 percent of the bandwidth.
That means the amount of data your bandwidth cap chews up on account of video streaming could be half of what it is now, without a noticeable change in quality-but it would require significantly more computational horsepower from your PC. What Kaby Lake promises is that the new dedicated video block won't actually impede your PC's performance.
That translates into two advantages, according to Intel: first, a tangible improvement in video decoding and encoding. Naturally, a Kaby Lake system will be able to decode 4K video at 60 frames per second-or up to eight 4K streams at 30 fps.But even the ultra-low-power Y-series will be able to encode 4K video at 30 frames per second, Intel said.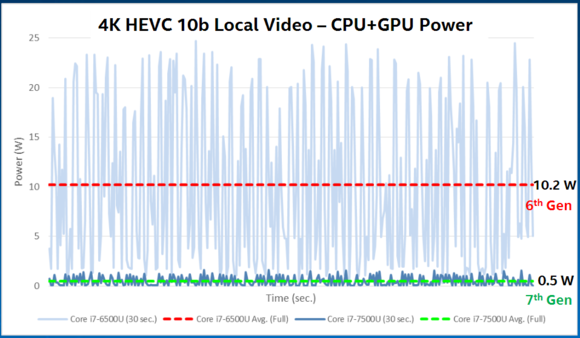 This graphic compares the amount of power used by Skylake's CPU and graphics engine to render 4K/10-bit HEVC video, versus Kaby Lake. Kaby Lake requires 0.5 watts on average, while Skylake required 10.2 watts-an enormous difference.
Otherwise, simply playing back video will consume far less power than before. Intel claims that the power consumed by the CPU and GPU combined will be up to 20 times less than in Skylake, resulting in a whopping 2.6 times more battery life when playing back HEVC 10-bit video on a notebook with a 4K panel. Streaming VP9 video on YouTube will see smaller, but still-impressive gains: a 1.75X improvement in battery life.
It was a smart decision for Intel, analyst Dean McCarron of Mercury Research said. "We've got a lot of transistors to spend on processor cores," he said. "You can squeeze more transistors into more cores or higher clock rates, or you can choose specialization, as Intel did here. Video is a really common task, with common algorithms, and it's a good way to spend those transistors."
Previous Page 1 2 3 4 Next Page