Intel's Kaby Lake chip is a must-have for 4K video fiends
Intel's Kaby Lake chip brings a modest bump in performance and some amazing video optimizations, as the third chip on the company's aging 14-nm process.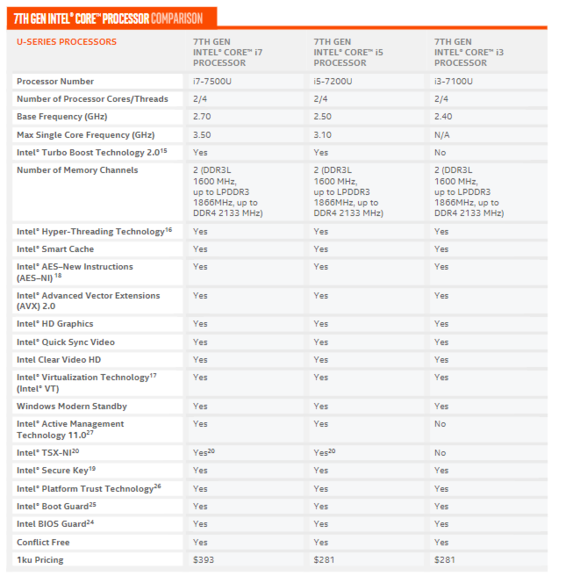 A feature summary of some of the new Intel Kaby Lake U-series chips.
Within the Y-series chips, core clock speeds will span 1.0GHz to 1.3GHz, using Intel's "turbo boost" to overclock from 2.6GHz to 3.6GHz when needed. For example, a Core i7-7Y75 Kaby Lake part will include 2 cores/4 threads, with a base frequency of 1.3GHz and a "turbo boost" frequency of a whopping 3.6GHz.
The more powerful U series, meanwhile, will run at core clock speeds from 2.4GHz to 2.7GHz, with "turbo boost" speeds of 3.1GHz to 3.5GHz. Though you'll probably never buy either chip yourself, Intel's public pricing on both series is identical, ranging from $281 to $393.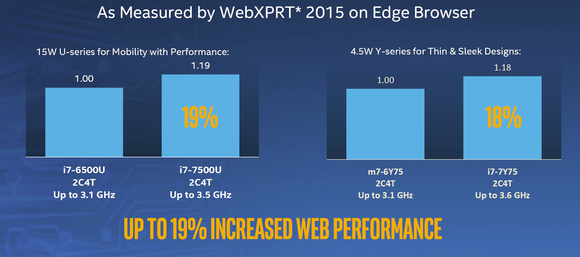 Intel's 7th gen Kaby Lake is built on the same 14nm process but improvements in manufacturing and under the hood tweaks have lead to not insignificant performance boosts depending on the task.
Be aware, however, of the important branding difference between the two processor families launched. A generation ago, the Y-series was known as Core m. Now, however, Intel has largely done away with that specific brand, dubbing it just another Core i7 instead. Only the m3-7Y30 will be officially known as a Core m3.
One of the elements that helped Kaby Lake's performance is an improved "Speed Shift" technology. Intel's "Turbo Boost" technology kicks a single processor core into an overclocked state. But Speed Shift governs how quickly that happens-and Kaby Lake accomplishes that task faster than Skylake does. That makes Kaby Lake more responsive: about 19 percent quicker on browsing with Edge-a "feels faster" improvement, Intel executives said.
Intel didn't say anything about Kaby Lake's graphics performance, though we'd guess (as indicated above) that it can at least play Overwatch, a popular online shooter, at decent settings. Otherwise, Intel executives encouraged reporters to compare Kaby Lake to a five-year-old PC: Kaby Lake can convert an hour-long 4K video in 12 minutes, 6.8 times faster than an ancient Core i5-2467M Sandy Bridge chip. According to Intel, it's "three times better" in Overwatch as well.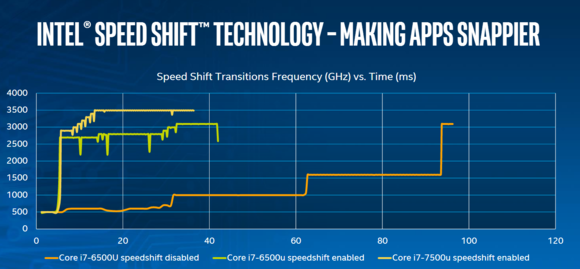 With Kaby Lake, the processor jumps up into an overclocked state faster than Skylake.
Otherwise, the differences lie mainly in the platform capabilities. Intel says convertible PCs and clamshells can now be manufactured thinner than 10mm, and more than 120 Kaby Lake PCs will include a Thunderbolt connection, which the chip supports.
Intel defines premium and baseline Kaby Lake configurations. The baseline spec supports up to eight USB 2.0 ports, up to four USB 3.0 ports, and up to 10 lanes of older Gen-2 PCI Express. Intel's premium ultrabook spec supports up to six USB 2.0 and USB 3.0 ports, plus up to 10 Gen-3 lanes of PCI Express. The premium configuration also supports Smart Response Technology; the baseline does not.
Previous Page 1 2 3 4 Next Page