Intel NUC6i7KYK review: This Skull Canyon NUC smashes all mini-PC preconceptions
Intel's Skylake Core i7 NUC is talented across the board.
Granted, Haswell was two generations ago, but look again at the size of the Skull Canyon NUC. Intel's engineers cooked up some voodoo magic to coax this kind of performance out of a machine the size of a VHS tape, especially when you look at the temperature the NUC6i7KYK hits under full load.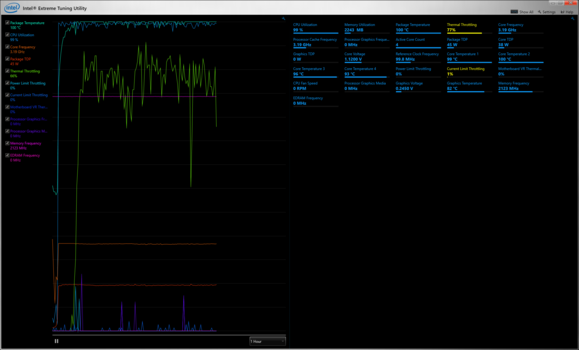 Credit: PCWorld. (Click for larger image).
I typically don't see processors sustain 100°C for extended periods of time, much less for nearly the full 48 minutes of our Handbrake encode test. As shown in this screenshot, some thermal throttling does occur, but the stock clock speeds barely drop—maybe by about 0.1 to 0.2GHz.
When asked, Intel indicated this isn't abnormal behavior for the Skull Canyon NUC, and this temperature level isn't a cause for concern. So if you happen to notice your NUC6i7KYK's processor sailing along at the boiling point for water, it should be fine.
About the only downsides to the NUC6i7KYK are its power consumption and how loud it is, and they're not even that bad. Compared to the similar complaints I had about the Broadwell Core i7 NUC, the peak power draw of 72.1W under load seems more reasonable, especially given how much performance this Skull Canyon NUC delivers. And the fans are quieter than the Broadwell NUC's—they're on par with a slightly noisier laptop.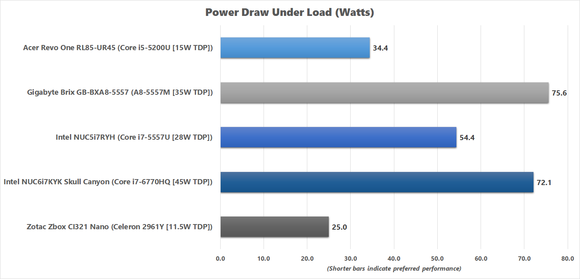 Credit: PCWorld. (Click for larger image).
Final thoughts
If this Skull Canyon NUC is any indication of where Intel wants to push the form factor, mini-PC enthusiasts may have a golden future ahead. Even though I'd personally hesitate to categorize this system as a gaming machine, its performance is excellent across the board. The idea that the next Core i7 NUC could do even better is exciting.
That said, Intel told us there's no set plan to produce a direct successor to the NUC6i7KYK—rather, that will depend on how well it sells. There are potential challengers to this tiny system: Gigabyte could update its NUC-like Brix Pro line with Skylake models, or mini-STX (another of Intel's pet projects) could actually take off. Both the Brix Pro line and mini-STX use 65W processors, which would provide a little more compute power.
Either of those options would be a trade-off rather than an upgrade in performance, though. Neither can match the Iris Pro Graphics in this Skull Canyon NUC. On top of that, the Brix Pro line is infamous for its shrieking fans, while the slow start for mini-STX suggests it could go the way of thin mini-ITX. This Skylake Core i7 NUC, on the other hand, requires very little compromise. Paying top dollar should always result in having a fantastic computer, and that's exactly the situation here.
Previous Page 1 2 3 4 5