Intel NUC6i7KYK review: This Skull Canyon NUC smashes all mini-PC preconceptions
Intel's Skylake Core i7 NUC is talented across the board.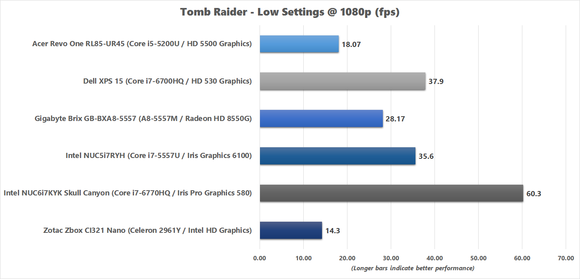 Credit: PCWorld. (Click for larger image).
(Note: The numbers for these older mini-PCs were obtained while running Windows 8.1, but we haven't seen enough of a difference between that operating system and Windows 10 to believe that the Skull Canyon's domination is affected by running the newer OS.)
Because the older mini-PCs couldn't take much more stress, these charts show framerates for each game's lowest settings. You can play with prettier graphical settings on the NUC6i7KYK, though. At 1080p, BioShock Infinite hit 38.39fps on Medium and 32.75fps on High, and Tomb Raider reached 61.2fps on Normal and 40.8 on High.
When you look at those numbers, it's pretty impressive to see just how far integrated graphics have come.
General Performance
Make no mistake—this mini-PC is also powerful for non-gaming purposes.
As with gaming performance, plenty of people will misunderstand the point of buying a system this small, and say that for the same budget, you could build a full desktop or buy a laptop that includes a display, keyboard, and trackpad. However, you can't put a laptop or a full desktop into the front pouch of your backpack, and they won't weigh 1 pound, 5.8 ounces.
So let's talk instead about how fast this machine is for something so compact. In our PCMark 8 benchmarks, the NUC6i7KYK moved along briskly during the Work Conventional test, which simulates office tasks like spreadsheet entry, word processing, and video chatting. It netted a score of 3,458.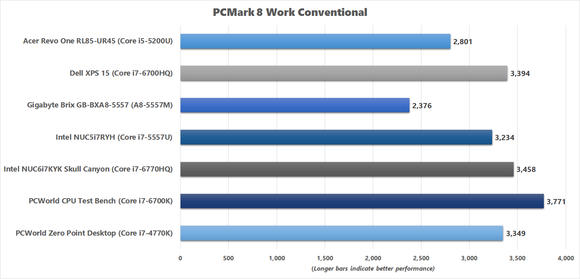 Credit: PCWorld. (Click for larger image).
These kind of activities aren't very challenging—even systems with less powerful CPUs can manage decent performance. More interesting was the NUC6i7KYK's score of 3,759 in the Creative Conventional test, which includes more intensive tasks like video editing.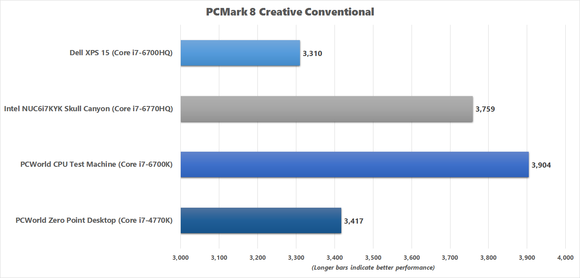 Credit: PCWorld. (Click for larger image).
As its PCMark 8 Creative Conventional score suggests, this tiny computer can realistically be used for content creation. The results of our Handbrake video encoding test, which involves converting a 30GB video file (MKV) into a smaller MP4 file using the Android Tablet preset, show this more clearly. The Broadwell NUC was one of the fastest mini-PCs with an encode time of 1 hour and 41 minutes—and the Skull Canyon NUC screams past it with a time of 48 minutes. That's slightly faster than the socketed Haswell part in our PCWorld Zero Point desktop system.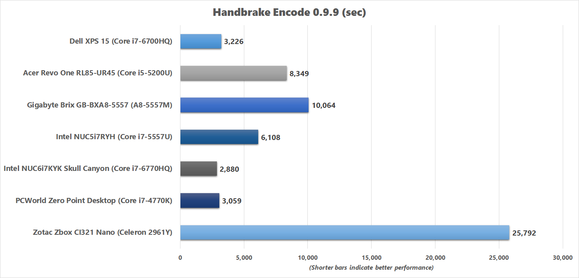 Credit: PCWorld. (Click for larger image).
Previous Page 1 2 3 4 5 Next Page