Intel NUC6i7KYK review: This Skull Canyon NUC smashes all mini-PC preconceptions
Intel's Skylake Core i7 NUC is talented across the board.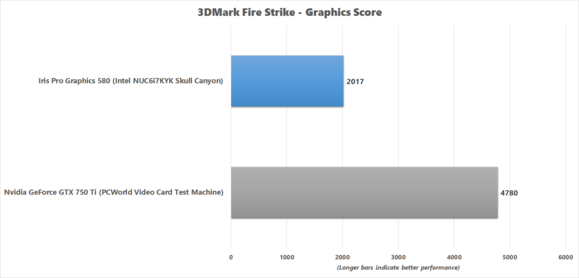 Credit: PCWorld. (Click for larger image).
Briefly put, if someone needs or wants a system with a dedicated graphics card (be it an Nvidia GTX 750 Ti or an AMD Radeon Fury X), the Skull Canyon NUC isn't worth consideration. Those gamers aren't the right group for this mini-PC, and it's odd that Intel didn't narrow the focus of its marketing campaign to avoid their questions and confusion.
Intel will argue that you can get better performance by buying a Thunderbolt 3 cabinet, installing a discrete graphics card, and then plugging that complete unit into your Skull Canyon NUC. That would provide a way to play the latest releases at 1080p/60fps on Ultra settings. The problem is that Thunderbolt 3 cabinets haven't really filtered out into the wild yet. The Razer Core was slated to launch in April, but as of this writing, it's yet to appear.
So while I'm eager to see how this NUC would perform with an external video card, that'll unfortunately have to wait.
Gaming performance
For the moment, what makes more sense is the NUC6i7KYK as a gaming machine for people who don't care about a big blockbuster's framerates or looks. Instead, they want a portable workstation or a very high-end, compact HTPC that can still run a fairly recent AAA game at 1080p.
In this context, "run" means framerates above 30fps, which is playable if not all that fast. It also means dropping graphics settings down a lot, or even to rock bottom. Believe it or not, some people actually wouldn't mind these limitations, given that Steam's most recent survey (April 2016) shows quite a few users are rocking integrated graphics. In exchange, they'd get framerates like 35.13fps in Shadow of Mordor or 50.79fps in GTA 5.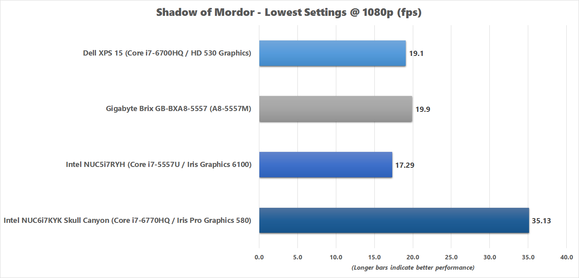 Credit: PCWorld. (Click for larger image).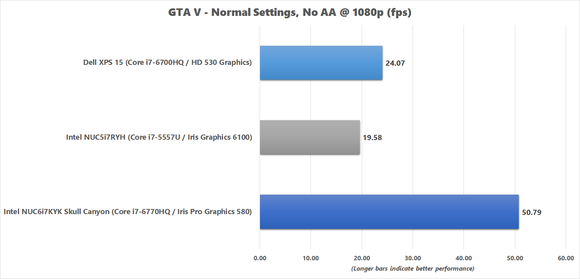 Credit: PCWorld. (Click for larger image).
Honestly, these numbers are pretty exciting, given what integrated graphics achieved on the Broadwell NUCs. Even non-Iris graphics on the Core i7-6700HQ aren't all that spectacular. In three-year-old games like BioShock Infinite and Tomb Raider, the older mini-PCs put up a valiant but futile struggle to show playable framerates, and the i7-6700HQ's Intel HD 530 still gets trounced by the Iris Pro 580 in the Skull Canyon's i7-6770HQ.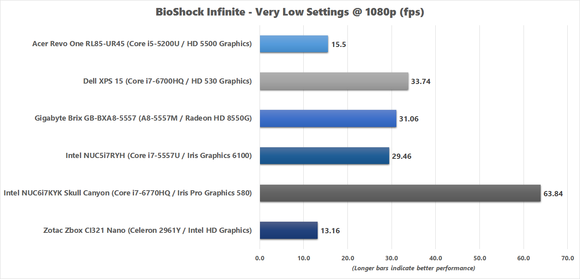 Credit: PCWorld. (Click for larger image).
Previous Page 1 2 3 4 5 Next Page