Intel NUC6i7KYK review: This Skull Canyon NUC smashes all mini-PC preconceptions
Intel's Skylake Core i7 NUC is talented across the board.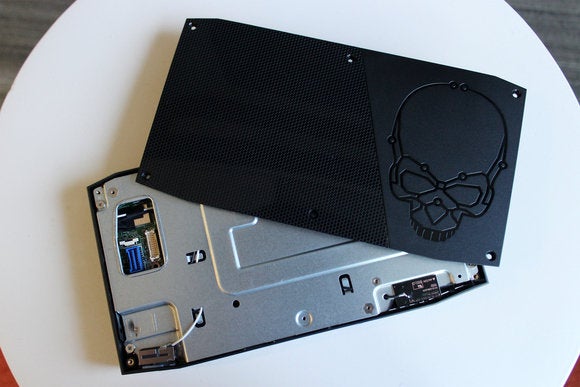 If you don't like the skull-embossed lid, a plain black lid comes with the system. You get a VESA mounting bracket and multi-country AC plugs in the box, too. Credit: Alaina Yee
On the outside of the NUC6i7KYK's 8.31 x 4.57 x 1.1-inch (211 x 116 x 28 mm) chassis are a bevy of ports. (A note about that case: While the new form factor looks sleeker, its plastic shell makes it feel a lot less indestructible than its square-brick siblings.) You get three standard USB 3.0, one charging USB 3.0, a SDXC slot, gigabit ethernet, a 3.5mm headset jack, a combo rear speaker/TOSLINK jack, a Kensington lock slot, mini DisplayPort 1.2, and HDMI 2.0 with HDCP 2.2 support (aka the ability to play copy-protected 4K content). An infrared receiver comes embedded in the front of the system.
A USB-C port supports Thunderbolt 3 and 10Gbps USB 3.1, as well as DisplayPort 1.2. Arguably, the Thunderbolt 3 support is a marquee feature of this Skull Canyon NUC—its implementation helps Intel bill the NUC6i7KYK as a gaming machine.
Let's discuss that marketing
Yes, Intel has positioned this machine as a mini-PC designed for gaming. It's the first NUC the company has touted this way, and the approach is two-pronged: superior integrated graphics on one side, and the dangled promise of using an external video card over Thunderbolt 3 on the other.
Selling a general premise of gaming is a curious gambit. PC gamers with full-tower rigs would never dream of abandoning ship for a system whose size greatly constrains (and inflates the price of) performance. Even people playing on much humbler hardware would be giving up a lot.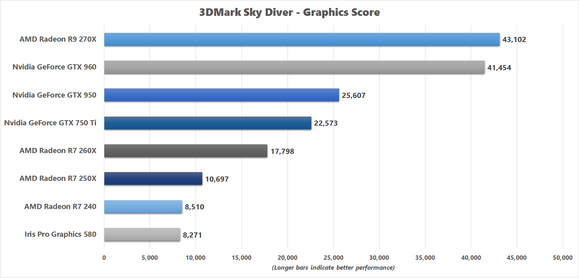 Credit: PCWorld. (Click for larger image).
If you take a quick look at 3DMark's publicly available scores for its Sky Diver test, which simulates 1080p gaming on Medium settings, you can get a rough idea of the gap that still exists between the best integrated graphics and the budget end of current discrete graphics cards. While CPU performance can affect game performance, zeroing in on Sky Diver's Graphics score (instead of its Overall score) should minimize that influence.
Because 3DMark's compilation of scores aren't performed on the same machine, and some cards are overclocked to varying degrees, I also ran 3DMark Fire Strike (which simulates 1080p gaming on Ultra settings) on the Skull Canyon NUC and the Nvidia GTX 750 Ti to grab a little bit of data under more controlled circumstances. As you can see, there's a long way to go before integrated graphics can handle Ultra settings. Even the 750 Ti itself can't make it, but it gets a heck of a lot closer.
Previous Page 1 2 3 4 5 Next Page