Intel NUC6i7KYK review: This Skull Canyon NUC smashes all mini-PC preconceptions
Intel's Skylake Core i7 NUC is talented across the board.
Intel's latest Next Unit of Computing (NUC) mini-PC shares just two traits with its dual-core, square-brick siblings: It follows the same unpronounceable naming structure, and it's an ultra-compact PC that can do real work.
Outside of that, the NUC6i7KYK forges a different path for itself. For starters, it looks nothing like the rest of Intel's signature line of tiny computers. This NUC is flat and long, comes shaded in black and gray, and has a huge skull emblazoned on the lid. (Undoubtedly as a nod to the machine's codename, Skull Canyon.)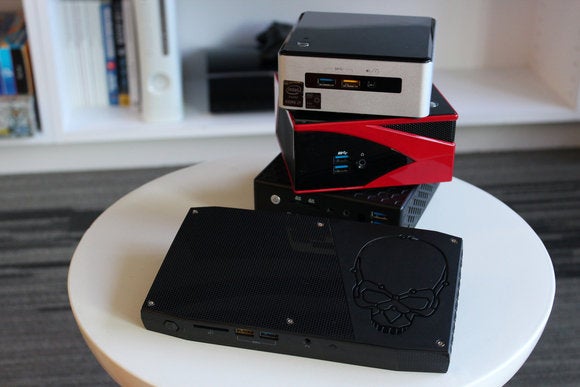 The Skull Canyon NUC (front) with the Intel NUC5i7RYH (top rear), Gigabyte Brix GB-BXA8-5557 (middle rear), and Zotac Zbox CI321 Nano (bottom rear). Credit: Alaina Yee
Its hardware also veers from the expected course. Stuffed inside is a beefy quad-core processor with top-of-the-line integrated graphics, meaning you can run content-creation tasks in more acceptable windows of time, and you can also play fairly recent AAA games at 1080p on this little machine. And yes, that's at reasonable framerates.
The former king of the NUC mountain hasn't just been dethroned. It's been kicked so far off a cliff, someone needs to scrape its remains off the ground.
Price, specifications, and ports
Predictably, the kind of performance that Intel packs into this NUC doesn't come cheap. The list price for this bare-bones system is $650. Our review unit, which came equipped with a Samsung 950 Pro M.2 512GB NVMe SSD and 16GB of Crucial DDR4/2133MHz memory, totals just a little over $1,000 at current street pricing for hardware alone. Add in the cost of the Windows 10 license we used for testing, and we'd be over Intel's target of $1K total for the build. To hit that mark, you'll have to spend less on parts to afford Windows, or go Linux.
For that bare-bones $650, you get a 2.6GHz Core i7-6770HQ quad-core Skylake processor that can boost up to 3.5GHz, Iris Pro Graphics 580 sporting 128MB of eDRAM, and a whole bunch of cutting-edge hardware. Two M.2 slots support SATA 6Gbps and x4 PCIe Gen 3 (AHCI or NVMe) drives in either a 42mm or 80mm length, with the option to run two drives in RAID 0 or RAID 1. An Intel Wireless-AC 8260 card features 802.11ac 2x2 Wi-Fi, Bluetooth 4.2, and Wireless Display 6.0 support. Two SO-DIMM sockets can take up to 32GB of DDR4/2133MHz RAM, or even overclocked DDR4 RAM. Headers are accessible underneath the user-replaceable lid for NFC, two USB 2.0 ports, and two USB 3.0 ports. As with the Broadwell line of NUCs, you can use plans provided by Intel to design custom lids and make use of these connectors.