Intel Kaby Lake Review: What optimization can do for a 14nm CPU
There's no die shrink, but Intel's 7th-gen chip brings both a decent performance boost and buttery-smooth support for advanced video playback.
For our rundown test, I stuck with our standard workload, which is to play the open-source Tears of Steel, using Windows 10 Movies and TV with the brightness set to around 255 nits. Audio was on using a pair of ear buds, and the tests were conducted in airplane mode.
The result? The Kaby Lake in the new XPS 13 gives you an hour's more battery life than the prior Skylake version. Because these are laptops I can't separate the CPU's role from the battery's, but at least we're not going backward.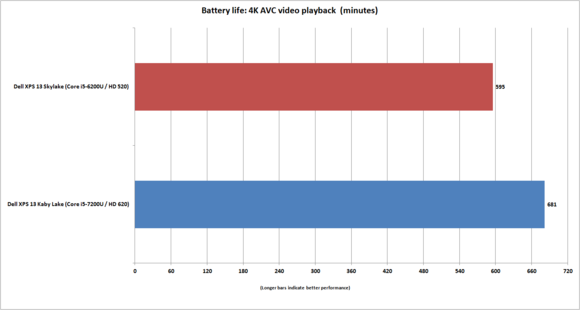 The Kaby Lake XPS 13 gives up slightly better battery life than the Skylake XPS 13, but other factors contribute to that outcome.
Greatly improved video engine
You know Kaby Lake's magic on the CPU side is mostly a clock speed bump. Graphics? Another bump. The big upgrade is to the video engine, where Intel added a wealth of hardware support for such things as VP9 at 4K resolution and 10-bit color support for HEVC.
To find out the practical upshot I used an Intel-supplied 10-bit HEVC file at 4K resolution. The file was actually the same open-source Tears of Steel video, but encoded at a 10-bit color depth.
Using the same settings for the previous battery run-down test, I wanted to see how much that hardware support for 10-bit HEVC mattered. As it turns out, it matters a lot.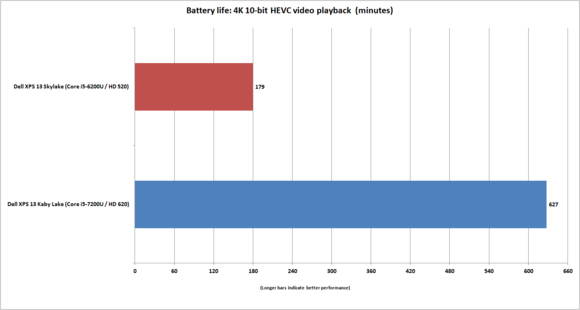 ,Battery life during playback of 10-bit HEVC video barely dented the Kaby Lake XPS 13 thanks to its hardware support. I can't say the same for the Skylake XPS 13.
As you can see, the Kaby Lake XPS 13's battery life is just over 10 hours. On the Skylake XPS 13, you take a yuge hit, with Skylake tapping out at just under three hours. Ouch.
Kaby Lake's dedicated hardware for playing back 10-bit HEVC on the graphics cores means the CPU can sit idle most of the time during playback. Skylake doesn't have the same video hardware support, so the decoding of that 10-bit content is shifted to the CPU cores, which must run at at far higher speeds to process it. The more you use the CPU, the more power you use.
As a comparison test, I downloaded a pair of videos encoded in HEVC at 10-bit color depth from Jelly.fish.us. The files are provided so people can test network streaming performance.
Previous Page 1 2 3 4 5 6 7 Next Page