Intel Kaby Lake Review: What optimization can do for a 14nm CPU
There's no die shrink, but Intel's 7th-gen chip brings both a decent performance boost and buttery-smooth support for advanced video playback.
To gauge the performance of the laptops, I used Futuremark's 3DMark Cloud Gate. It's a synthetic benchmark, but its value lies in being a neutral title that doesn't favor any particular vendor's optimizations. The Cloud Gate test is well suited for integrated graphics gaming, too.
In 3DMark, Kaby Lake comes in just 7 percent faster over the comparable Skylake chip. Over Broadwell's Intel HD 5500, though, you get a very respectable 27-percent difference. Looking at the 3DMark Cloud Score from the gold XPS 13 with Core i7-6560U chip, you can see where the Iris 540 graphics and its embedded 64MB of eDRAM pay real dividends.
One thing that should be said: Intel says Kaby Lake graphics can play some eSports-level games at 30 fps with resolutions and settings turned down. It's nice that you're getting near Iris-level performance in a standard CPU, but if games are going to be something of a focus in your laptop, get one with a discrete graphics chip (and with a Kaby Lake chip too).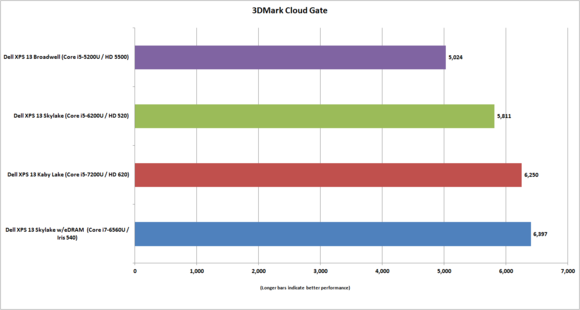 Using the graphics test of 3Dmark Cloud Gate, Kaby Lake is faster but not by quite the same margin over Skylake. The 64MB eDRAM cache in the Core i7 also pays off handsomely.
Battery life is better, maybe
One of the more difficult tests in a laptop is comparing the battery consumption of different CPUs. Ideally, you'd test a laptop and then swap the CPU out and test again. That world doesn't really exist anymore, because all of Intel's mobile CPUs are soldered to the motherboard.
The best-case scenario is what I have today. It's not perfect but still an interesting comparison to make.
In the interest of full disclosure though, I should mention some key differences. Dell uses cells that are physically the same size, but denser battery technology has increased the capacity. The Skylake-based XPS 13 has a 57,532 watt-hour battery, while the Kaby Lake-based XPS 13 has a 59,994 watt-hour battery.
The other key difference, which may matter more, is the SSD. Both have 256GB drives, but the brands and rated power consumption are different. The Skylake unit has a Samsung PM951 NVMe drive, which can use up to 4.5 watts, while the Kaby Lake unit has a Lite-On CX2, which absolutely sips power at 1.32 watts under load. What's not clear is whether the Samsung drive is using a full 4.5 watts while being read from, or if that's only a worst-case scenario. Ideally, both would have the same drive, but that's out of my hands today. At least both pack 8GB of LPDDR3/1866.
Previous Page 1 2 3 4 5 6 7 Next Page