Intel Kaby Lake Review: What optimization can do for a 14nm CPU
There's no die shrink, but Intel's 7th-gen chip brings both a decent performance boost and buttery-smooth support for advanced video playback.
When you get involved in the quasi-religious wars between tech tribes, expect mudslinging. I won't re-litigate the politics of it here, but the good news is Geekbench 4.01 is completely new, and Primate Labs seems to have taken much of the criticism to heart.
Geekbench 4.01 tests cryptography, integer, floating point and memory tests. As I didn't have Geekbench 4.01 for the gold XPS 13, I've omitted that laptop. The result is an unsurprising 11-percent performance difference. Moving on to the Broadwell XPS 13, Kaby Lake shows a very respectable 24-percent improvement in performance. That pretty much echoes what I'm seeing elsewhere.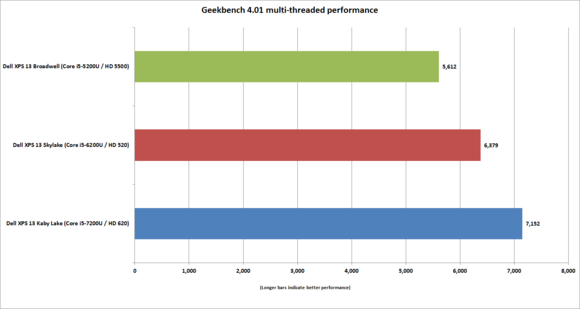 Geekbench 4.01 shows the 7th-gen Kaby Lake also ahead of the 6th-gen Skylake by a reasonable margin.
Handbrake Encoding Performance
Moving on to our final CPU-centric test, we use the free and popular Handbrake encoder to transcode a 30GB 1080P MKV file using the Android Preset. The test is mostly CPU-limited and loves multiple cores.
On most ultrabooks, we use it as both a performance and thermal soak test to find out what happens to a laptop when it's forced to heat up the the CPU for almost two hours. Typically, this is where you see the limits of the laptop's cooling system. Performance often falls off as the it heats up—or the fans get loud. Historically, Dell's XPS 13s have done really well in this test, and that's because Dell generally isn't afraid to make a little noise in favor of performance.
The results for the 5th-gen Broadwell and 6th-gen Skylake are as expected, with the 7th-gen Kaby Lake coming in about 11 percent faster than 6th-gen and 24 percent faster than 5th gen. As for the gold XPS 13 with its Skylake Core i7-6560U: Despite having a higher maximum clockspeed of 3.2GHz, the Core i7 actually finishes slightly slower than the Core i5 unit.
This seems to back up up my suspicion that the Kaby Lake Core i5, with its "optimized" process, can sit at higher clock speeds far longer than the Skylake Core i7 chip.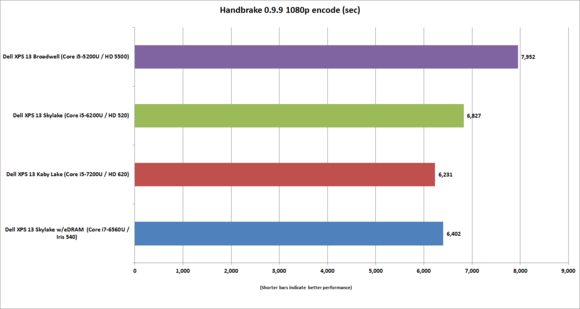 It's no surprise that the Kaby Lake CPU aces both its Skylake and Broadwell siblings by a reasonable amount. The surprise is beating the Core i7 Skylake chip.
3DMark Cloud Gate Graphics performance
I didn't get too heavily into the gaming performance of Kaby Lake, because like the CPU side, it's very similar. The Kaby Lake chip has Intel HD 620 graphics, with 24 execution units and clock speeds of 300MHz to 1,050MHz. That probably sounds pretty similar to what you got out of Skylake's Intel HD 520, which has 24 execution units and a clock speed range of 300MHz to 1,050MHz
Previous Page 1 2 3 4 5 6 7 Next Page