Intel Kaby Lake Review: What optimization can do for a 14nm CPU
There's no die shrink, but Intel's 7th-gen chip brings both a decent performance boost and buttery-smooth support for advanced video playback.
Prior to testing, all three laptops were reset, and all three were updated with the same Windows 10 version (OS 1607 Build 1493.222). All three also had the latest drivers and BIOSes applied from Dell's support site.
If your PC world tends to swing desktop, know that what we're only looking at laptop Kaby Lake performance. Desktop CPUs (and quad-core laptop chips) are due early next year. Consider what you see here a preview of what you might see with the upcoming desktop CPUs.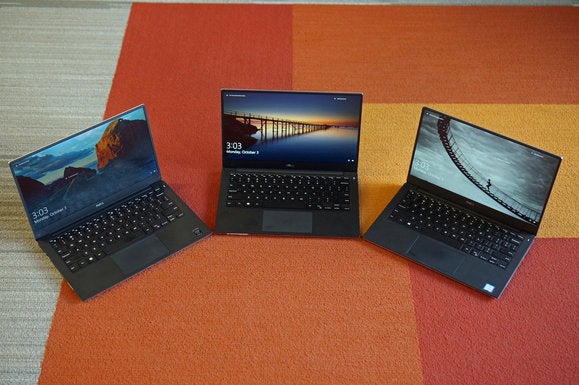 Three generations of XPS 13 laptops: On the left is the 1st-gen Broadwell. On the right is 2nd-gen Skylake, and in the middle is the latest: A 3rd-gen Kaby Lake version.
Three 14nm CPUs enter a bar...
Unlike previous generations, Intel now has three CPUs built on its 14nm process. I've lined up the comparative details from Intel's ARK page. I've also included the Core i7-6560U chip used in the gold XPS 13 that occasionally appears in my benchmark charts.
If you look at the specs below, you can find the main performance advantage Kaby Lake has—clock speed. Kaby Lake cores are, for the most part, identical to Skylake cores. By massaging the 14nm proces, Intel squeezed out a CPU that can hit higher clock speeds. For example, where 6th-gen Broadwell Core i5-6200U maxes out at 2.8GHz, 7th-gen Kaby Lake can hit 3.1GHz.
So what does that 10 percent increase in clock give you? Let's find out.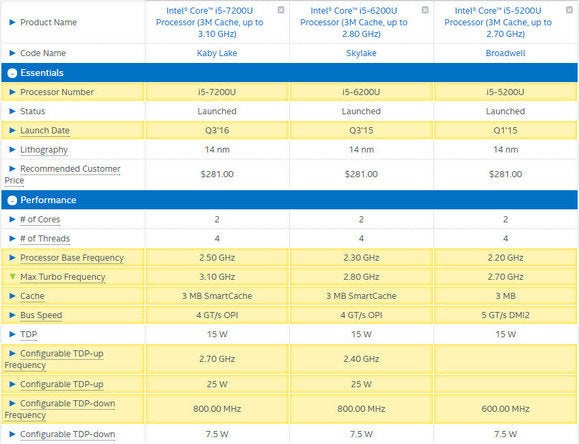 Cinebench R15 multi-threaded performance
First up is Cinebench R15. This test is based on Maxon's real-world rendering engine and is a pure CPU test. That roughly 10-percent clock speed advantage the current Core i5-7200U has over the prior Core i5-6200U results in roughly a 10-percent bump. With the older Broadwell-based Core i5-5200, the gap widens to 20 percent.
As for the gold XPS 13, you'd think its Intel Core i7-6560U and Iris 540 graphics core, with the ability to hit a maximum of 3.2GHz, would prove slightly faster than the Kaby Lake version, but it's not. In fact, it's slightly slower. I think the Kaby Lake Core i5 with its improved process is able to run at its highest clock speed speed for longer than the Skylake Core i7. That's another testament to Intel's "optimize" step.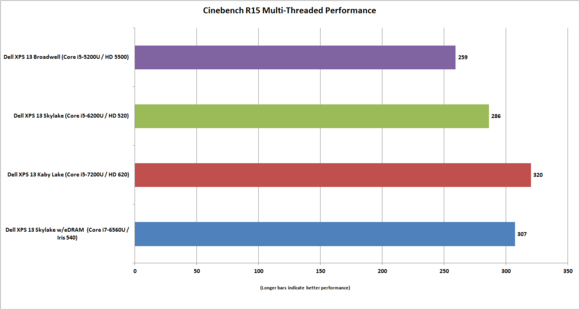 The 7th gen Kaby Lake Core i5 unit is surprisingly faster than the Core i7 by a smidge.
Geekbench 4.01 performance
While Maxon's Cinebench R15 is based on a 3D rendering engine the company sells, Geekbench is a synthetic test that tries to simulate what it believes are real-world workloads. The test isn't without controversy, but much of that is due to Primate Lab's attempts to make it a usable cross-platform tool that would let you compare an iPad Pro to a PC.
Previous Page 1 2 3 4 5 6 7 Next Page