Intel doubles down on Project Alloy as the savior of the PC
The jury's still out on whether anyone's going to buy Intel's VR vision, though.
It almost sounds like Project Alloy could be Intel's version of the Microsoft Surface—a game-changing product that could lead the way into an entirely new category of products. But it's still not clear whether Alloy represents a product unto itself, or just a reference design that the company will provide to its partners.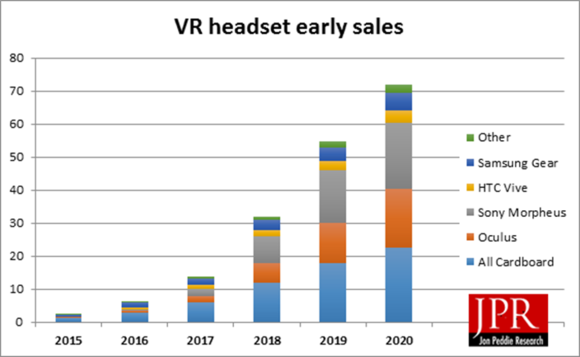 Jon Peddie Research
For now, Intel is in the "other" category until we better know what Intel's plans are, Jon Peddie of JPR said in an email.
An uncertain future
If this all sounds like a desperate attempt to latch on to the latest trend—well, you're not alone. Unit sales of VR devices aren't expected to take off until 2018 or so, if that, according to Jon Peddie Research. And it's not clear what will drive the technology industry until then.
In fact, we actually have a better idea of what will drive the technology industry after VR devices: self-driving cars. BMW executives appeared onstage to reveal their plans to ship cars that allow a driver to take his or her eyes of the road by 2020 or 2021. Also on Tuesday (but separate from IDF), Ford announced plans to build fully self-driving cars in the same timeframe.
Ford plans to triple its fleet of autonomous research vehicles in 2016, and triple it again in 2017, on its way to mass production of self-driving cars by 2021.
As Insight 64's Brookwood noted, the amount of silicon and intelligence a self-driving car requires vastly outweighs what today's automobiles require. Products that require sophisticated processors to crunch massive amounts of data provide opportunity to raise Intel's profile once again.
The bottom line, though, is that a self-driving car sells itself. Virtual reality? Merged reality? The jury's still out.
There is hope, though. Kathleen Maher, an analyst with JPR, said the ramifications of virtual reality in the workplace and the home aren't yet fully understood. "It's been a big wake-up call for me, that virtual reality replaces the abstractions we've been using, like pages and text," she said. "That's a really long-term view, but Intel has to be thinking of the long term."
Here's a look at Project Alloy on stage at IDF: