Intel doubles down on Project Alloy as the savior of the PC
The jury's still out on whether anyone's going to buy Intel's VR vision, though.
Your PC is bored. Your smartphone is, too. While you're reading this story, your digital device is twiddling its thumbs, waiting for you to do something. When a smartphone can offer enough computing power for most tasks without breaking a sweat, you can understand why PC sales are tanking—and why Intel's so enamored with virtual reality.
Intel announced the Project Alloy virtual-reality headset on Tuesday at its Intel Developer Forum, as well as the next-generation Kaby Lake microprocessor. Kaby Lake PCs are scheduled to ship in the fall. Intel executives positioned both announcements in the context of VR: Alloy for consuming VR content, and Kaby Lake for producing it.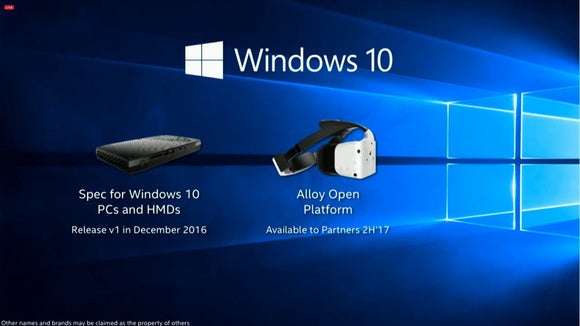 The Windows 10 Holographic and Intel Project Alloy roadmap.
Pinning the PC's hopes upon VR
A few months ago, Intel executives began promoting virtual reality as the leading edge of the PC, especially VR headsets like the Oculus Rift that depend on the PC for their processing power. "Virtual reality is very computationally intensive, and if Intel can create a requirement for more computationally intensive applications, then guess what? That works for them," said Nathan Brookwood, principal at Insight64, an microprocessor analyst firm.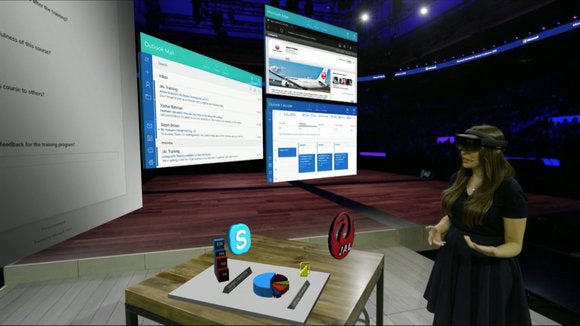 Microsoft's Hololens is demonstrated at the company's Worldwide Partner Conference in Toronto in July 2016. An update to Windows 10 in mid-2017 will bring Holographic and Windows 10 closer together.
Intel expects the worlds of virtual reality—the Oculus Rift—and augmented reality—the HoloLens—will eventually merge. That's what Intel's latest project, Project Alloy embodies: a device that primarily projects a virtual reality environment around the user, but incorporates aspects of augmented reality, too.
Alloy uses a pair of RealSense cameras to "see" physical objects like a user's hand, and project them into the virtual space. "We think this is going to be big," Krzanich said during his IDF keynote Tuesday. "It's so different than anything else that's out there right now."
Beginning in the middle of 2017, Intel plans to open-source the Alloy hardware, so any of its traditional hardware partners can jump on the Alloy bandwagon. Alloy runs on Windows Holographic, the Microsoft operating system that powers its HoloLens. Also midway through 2017, Microsoft plans a free upgrade to Windows 10 that will allow Windows Holographic devices to interact with the millions of Windows 10 PCs already in the market.
It's easy to imagine what both Intel and Microsoft hope will happen next: Devices like Project Alloy become the next big thing, selling millions of PCs with Intel microprocessors and Windows 10 licenses. Alloy and its cousins will become PCs you can strap to your face.