HP's new 3D printer is aimed at manufacturing, not consumers
The Multi Jet Fusion 3D printing is designed largely for limited production runs, one-offs.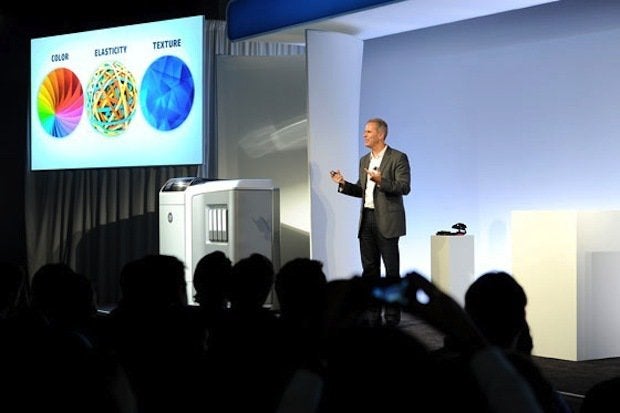 Steve Nigro, senior vice president of HP's Inkjet and Graphics Solutions Businesses, introduces the new Multi Jet Fusion printer at a press event in New York City last week. Credit: HP
HP has no plans to take its new industrial 3D printer into the desktop market for consumers, but it will likely scale the machine to take on large production parts.
Last week, HP unveiled its Multi Jet Fusion 3D printer, saying when it ships in 2016 it will enable production of parts with a technology traditionally reserved for rapid prototyping.
The new industrial 3D printer -- a little larger than a washing machine -- is 10 times faster and 50% less expensive than current systems on the market, HP said. The first version of the printer uses thermoplastics and multiple colors, but HP plans on expanding materials to suit a variety of production manufacturing. The machine is capable of producing high-precision parts, HP said.
"That detail is not possible in a desktop device," said Steve Nigro, senior vice president of HP's Inkjet and Graphics Solutions Businesses. "You can do some simple applications [with a desktop 3D printer]."
Nigro made the comments yesterday during a live-streamed Q&A with Todd Grimm, an additive manufacturing consultant, to expound on HP's plans for the new printer.
HP plans to ship the Multi Jet Fusion 3D printer to beta customers early next year and begin mass production and sales in 2016, Nigro said.
HP has not announced prices, but Nigro said it would be competitively priced against other industrial 3D printers on the market today that run between $100,000 and $1 million.
HPs 3D printing technology is unique. It combines the attributes of binder jet printing, where a liquid bonding agent is selectively deposited to join the powder materials, and sintering technology, where layer upon layer of powder material is melted and fused together with heat.
The printer works by first depositing powder (about 100 microns thick or the thickness of a standard sheet of paper) onto a print bed using a print bar that looks like a scanning bar on a typical 2D printer. The print bar has 30,000 nozzles spraying 350 million fusing agent droplets a second in specific patterns as it moves back and forth across a print platform.
A detailing fusing agent is sprayed around the edges of a printed object, giving it "sharp" details.
Nigro said HP will be targeting enterprise and service provider "central production environments." He doesn't see the machine being used for mass production, but instead for one-offs or limited production runs.
Using a production gear as an example, Nigro said 3D extrusion techniques -- where layer upon layer of thermoplastic nylon is laid down -- can take up to 83 hours to create the part. Laser sintering, where a laser fuses layers of powder together, can take 30 hours.