HP's move into 3D printing will radically change manufacturing
Rival 3D printer makers will have to step up their game or be left behind.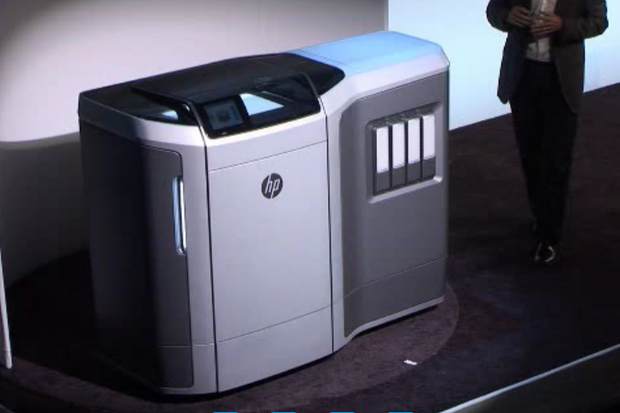 HP's new Multi Jet Fusion 3D printer.Credit: HP
HP's announcement this week that it's entering the 3D printing market with an industrial machine that is 10 times faster and 50% cheaper than current systems, immediately brought out the online snark.
"The question is, will it print a prototype that's just in black if you're out of Yellow polymer?" Reddit user ILikeLenexa wondered.
"3D printing from the company that charges the moon and stars for ink refills? Full vendor lock in? I don't think so..." wrote another named TotalWaffle.
Cynicism aside, HP is a $112 billion company whose products span the corporate and consumer marketplace, and it can bring to bear 30 years of 2D printer R&D on the 3D printer space.
Simply put, the move is unprecedented.
"There's a lot of parallels between document printing and 3D printing, so our company's been looking at HP for a long time, thinking it's an excellent candidate to enter this market place," said Terry Wohlers, president of research firm Wohlers Associates. Recently, Wohlers said he was given a demonstration of HP's new Multi Jet Fusion printer and was "blown away" by the speed, quality, feature details of printed items and by the brilliant colors it produces.
"It's better than I expected. It's many times faster than anything on the market," he said. "It's something that is vastly different than what has even been developed before."
In the 3D printing world, buzz about an HP entry has been going on for the past year, and it has evoked both anticipation among those who use 3D printers and fear within the small but fast growing community of 3D machine manufacturers.
Stratasys, the largest maker of 3D printers today, and a company that regularly sees 60% year over year revenue growth, said HP's entry is far from frightening. "This activity will bring more awareness, and it will lift the overall space. We see it as a big opportunity for the industry," the company said in a response to a Computerworld request for comment.
Wohlers said that while 3D printing is still in its "early days" HP's move will accelerate growth in ways never seen.
"HP's new 3D printer, if people see that and they're not blown away, then they don't understand what it takes to built parts using conventional manufacturing," Wohlers said. "It's not only a game changer, it's going to rewrite the rules in the 3D printing industry."
3D printing, which has been around since the 1980s, has mainly been used to more quickly produce prototypes -- a process known as rapid prototyping through additive manufacturing. Rapid prototyping with additive manufacturing slashes development time and costs because test parts no longer need to be sent off to a design firm and then cut on a giant machine tool lathe from blocks of metal or other materials. With that method, it's one mistake and back to the drawing board.