HP begins selling its Jet Fusion 3D printer; says it's 50 percent cheaper, 10X faster than others
HP's Jet Fusion technology will be able to print electronics in a product.
While special, HP's Jet Fusion 3D printing technology is not about to "change manufacturing as we know it," Kempton cautioned. The technology is still likely to be used mostly for rapid prototyping. But if it lives up to its speed and quality claims, HP is likely to become a dominant player in the 3D printing arena, Kempton said.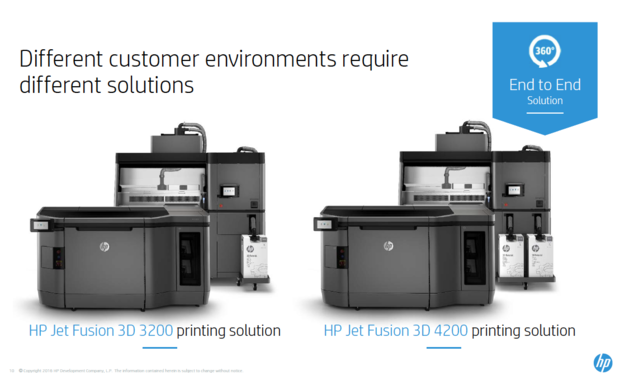 Credit: HP
Wohlers agreed, saying HP's printers will "rewrite the rules of 3D printing."
For one, HP's Jef Fusion printers operate at half the cost of similar 3D printing methods, such as laser sintering. Today, laser sintering is the most popular additive manufacturing process for production parts.
Wohlers also pointed to HP's claim that its machines will be 10 times faster than laser sintering, since speed is critical to producing production quantities of parts. 3D printing has traditionally been faster at preparing parts for manufacturing, but slower in actually building the parts than traditional methods such as injection molds.
"So for some parts, companies will choose to use the HP machine for tens of thousands of parts annually, rather than using plastic injection molding. Determining whether it is viable will depend on the size of the parts and the requirements of the material," Wohlers said. "The company also said that the material properties are consistently better than laser sintering and I have no reason to doubt this claim. It is going to shake up 3D printing in ways that we have not seen in the past."

Chainmail printed by the HP Jet Fusion 3D printer. Credit: HP
While revolutionary in some ways, HP's Fusion Jet printing technology does have its drawbacks, Wohlers said. For example, like laser sintering, parts must cool before being removed from the printer's powder bin. So if a part's build takes 10 hours, it could take another 10 hours before parts can be extracted for post processing.
Additionally, HP has not released pricing for materials -- the powder for the Jet Fusion printers. If reasonably priced, it will be much more likely to attract manufacturers seeking to create large product runs with 3D printing.
"The automotive industry will likely begin to manufacture some plastic parts using HP's machine, whereas it was too expensive by 3D printing previously due to their high quantities," Wohlers said.
Ford Motor Co. has been using binder jetting and a half dozen other 3D printing methods -- such as fused deposition modeling (FDM) and stereo lithography (SLA) -- to create both prototypes and injection molds that can be used to make production parts.
Previous Page 1 2 3 4 5 Next Page