HP begins selling its Jet Fusion 3D printer; says it's 50 percent cheaper, 10X faster than others
HP's Jet Fusion technology will be able to print electronics in a product.
By enabling more productive 3D printing, HP is lowering the horizontal line for powder bed fusion costs, Basiliere said.
About the size of two washing machines, the HP Jet Fusion printer line will have a starting price of about $130,000 for the 3200 series and in the low $200,000 range for the more sophisticated 4200 series.
The 4200 series Jet Fusion printer is 25% faster than the 3200 series and will be able to produce product runs of more than 50,000, Monino said. Even at that rate, the printer will be more economical to run than traditional CNC milling or injection molding manufacturing techniques, Monino said.

Once a print job is complete, the printed parts must be removed from the Jet Fusion powder bin and cleaned. Here an HP technician cleans a printed vehicle intake manifold. Credit: HP
Along with the base printers, the HP Jet Fusion system comes with a separate post-processing station, which removes excess powder and debris and prepare printed parts for use. The post-processing stations are sold separately from the printers and add about $25,000 to the price.
While technically dissimilar in some ways to binder jet or selective laser sintering (SLS), a method of binding pulverized material together with either chemicals or laser light, HP's Jet Fusion 3D does result in a similar post-processing requirements; printed parts must be allowed to cool and then be pulled from a bin or "cake" of powder and cleaned before used.
Joe Kempton, an analyst for market research firm Canalys, said HP's Multi Jet Fusion technology is essentially powder bed fusion 3D printing.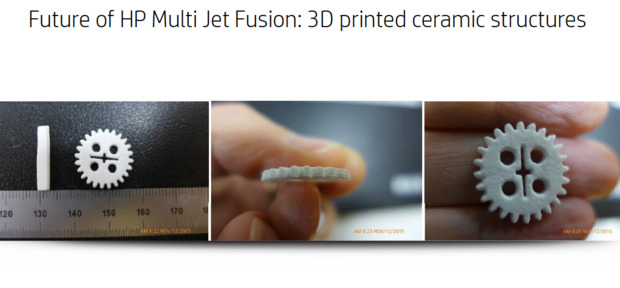 In addition to thermoplastics, HP will offer other materials with which to print, including ceramics. Credit: HP
"Therefore, even though the technology is a game-changer, it will only affect a portion of the 3D printing industry, and within this segment, only the middle market of the enterprise space," Kempton said. "This means the kind of customers who will be using it are different from those who would be using, for example, [stereolithography]"
Stereolithography (SLA) is a 3D printing method where photosensitive resin is hardened with either UV or laser light. While various methods of SLA printing can be faster than others, HP's Multi Jet Fusion printing will top any previous production speeds.
"HP is truly offering a revolutionary new type of 3D printing," Kempton said. "There is often a lot of overhype in the 3D printing market over new technologies, most of which fail to live up to these lofty expectations, but HP's Jet Fusion technology really is something special."
Previous Page 1 2 3 4 5 Next Page