HP begins selling its Jet Fusion 3D printer; says it's 50 percent cheaper, 10X faster than others
HP's Jet Fusion technology will be able to print electronics in a product.
The printer works by first depositing powder (about 100 microns thick, or the thickness of a standard sheet of paper) onto a print bed using a print bar that looks like a scanning bar on a typical 2D printer. The print bar has 30,000 nozzles spraying 350 million fusing agent droplets per second in specific patterns as it moves back and forth across a print platform.
A detailing fusing agent is sprayed around the edges of a printed object, giving it "sharp" details.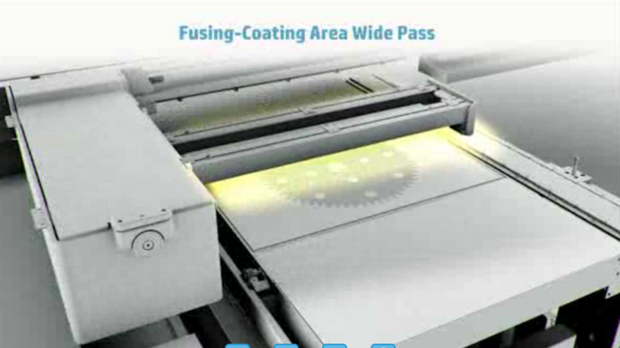 The top of the HP Multi Jet Fusion 3D printer showing a print bar. It looks like a scanning bar on a typical 2D printer. The 3D print bar, however, has 30,000 nozzles spraying 350 million drops per second of thermoplastic or other materials. Credit: HP
HP sells its printing materials in 30 liter boxes or 200 liter barrels. During post processing of printed objects, any unused powder materials is recycling for reuse.

An HP 10-liter material cartridge. HP also sells 200-liter barrels of printing powder. Credit: HP
Currently, HP's Jet Fusion printers only use nylon, although its technology roadmap includes other plastics, ceramics and possibly metals.
"I believe that HP will disrupt the industry with a new level of speed, quality and cost," said Terry Wohlers, president and lead analyst with market research firm Wohlers Associates. "It's difficult to validate machine and part quality until customers are available. My experience with HP and HP products is that the company does not take it lightly."
Like some other 3D printers, HP's is actually made up of printed parts. For example, of the 135 customer parts that make up a Jet Fusion printer, 66 were 3D printed by HP's own factory machines, according to Monino.
3D printing shines when it is used to produce an item that cannot be made with injection molding, CNC machines or other traditional manufacturing techniques, according to Pete Basiliere, imaging and print services vice president at research firm Gartner.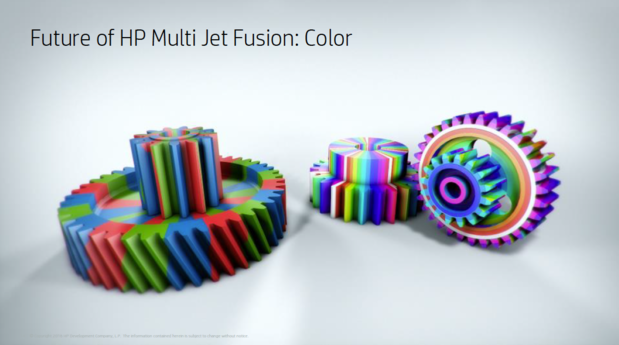 The HP Jet Fusion 3D printer prints at the voxel (or pixel) level, meaning it can use any combination of colors to create an object. Credit: HP
Examples of 3D printing in manufacturing abound, "ranging from medical implants and prostheses to MakieLab's' dolls. Align Technologies makes 150,000 Invisalign dental braces every day and every one of them requires a custom 3D-printed mold," Basiliere said.
"Compared to high-volume manufacturing of the same part, there is a cross-over point at which it is cheaper to produce the part with traditional technology than with 3D printing," Basiliere continued. "Injection molding, for instance, has a cost curve that starts high (due to tooling costs) but declines as those and other costs are amortized over the long production run. 3D printing has essentially a horizontal cost curve since there are no tooling costs and make-ready cost is low."
Previous Page 1 2 3 4 5 Next Page