HP begins selling its Jet Fusion 3D printer; says it's 50 percent cheaper, 10X faster than others
HP's Jet Fusion technology will be able to print electronics in a product.
ORLANDO -- Hewlett-Packard today began taking orders for its first 3D printer, the HP Jet Fusion printer, which it said will be up to 10 times faster than existing machines and can cut the cost of manufacturing parts in half.
At the RAPID 3D additive manufacturing conference here, HP revealed two models: the lower-cost and lower production 3200 series and the 4200 series, for which it is now taking orders. The 4200 series will begin shipping to manufacturers in October; the 3200 series will be available in mid-2017.
HP originally unveiled its Jet Fusion printer in October 2014.

HPs 4200 series Jet Fusion printer (left) and post processing station.
HP claims its printer will enable mass production of parts through additive manufacturing (3D printing), instead of just rapid prototyping, for which the technology is typically used. The printers are unlikely to be used to produce millions or billions of production parts; think, instead, in terms of hundreds, thousands or tens of thousands of parts, HP said.
The printers will also revolutionize 3D printing in that they will be able to print electronics in the parts they create through the use of conductive materials printed at the voxel level. Like a pixel in a display, a voxel in 3D printing is a tiny cube, millions of which make up a larger object. A single voxel is 50 microns in size.
HP's Jet Fusion printers have a print area or a print bin of 16-in. x 12-in. x 16-in. Within that area, there are 2.4 teravoxels (a teravoxel is a trillion voxels).
"So parts are fused together at a very small level -- almost at the molecular level, and that helps give them a spectacular strength," said Alex Monino, HP 3D printing marketing director. "Imagine the possibilities of this in world of the Internet of Things, where not only every product is connected but every part in every product connected."
For example, Monino said, healthcare products such as orthotics or medical implants could have embedded wireless RFID chips that provide feedback to physicians or physical therapists on how well the product is performing or even how well a patient is doing.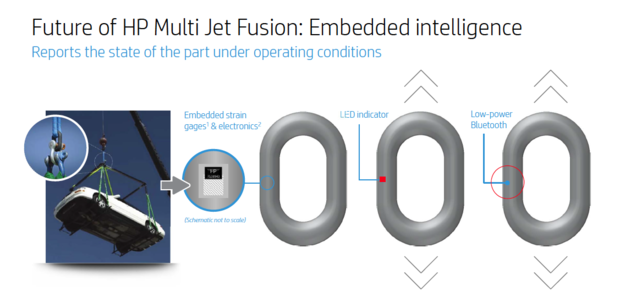 HP's Jet Fusion 3D printer can embed electronics in parts, so that not only can a part's performance be measured, but the effects of its surroundings can be measured, too. Credit: HP (Click for larger image).
"Now, imagine the car of the future where every part is transmitting information," Monino said. "And, parts can be visibly or invisibly printed with ink that can only be seen with UV light, so you can print parts that ensure products cannot be counterfeited.