How to use AMD's WattMan, the powerful new overclocking tool for Radeon graphics cards
Forget about third-party overclocking tools. WattMan has everything you need to crank your graphics cards to 11.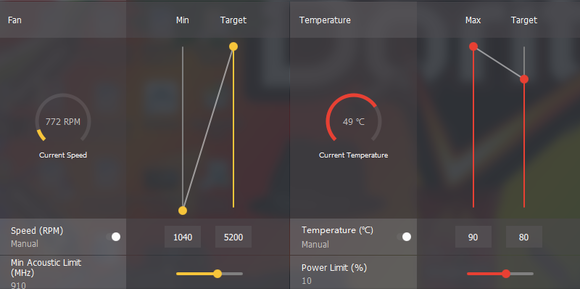 Finally, AMD's WattMan lets you define the RX 480's most noticeable characteristics. You can manually set minimum and maximum fan speeds, a minimum acoustic limit, and maximum and target temperatures.
AMD's stock settings for all of these are actually pretty good, but you can tweak them to your heart's content. If you're overclocking, you'll probably want to increase the RX 480's target temperature by three to five degrees to reduce potential thermal throttling while the card cranks away at higher clocks.
Likewise, you'll want raise the target fan speed from the default 2,200 revolutions per minute (RPM) maximum to ensure your RX 480 stays cool under the increased heat. But don't take this too far, because the RX 480's blower-style cooler sounds like a ferocious hair dryer when it's spinning at 100 percent fan speed. Our recommendation: Set the target fan speed to 4,000rpm—it'll be loud—and work down to an acceptable-to-you noise level from there. We found 3,000rpm to provide the best blend of acoustics and cooling.
Bottom line
AMD's WattMan is a major step forward for Radeon overclocking, and a stellar in-driver tool for gamers looking to get the most out of their new RX 480 graphic cards. If you've picked up AMD's new mainstream champion and haven't played around with WattMan yet, the only thing I have to say to you is, "U Watt Man?"
Because I just had to make a joke about that horrendous name.
Previous Page 1 2 3 4