How to use AMD's WattMan, the powerful new overclocking tool for Radeon graphics cards
Forget about third-party overclocking tools. WattMan has everything you need to crank your graphics cards to 11.
Forget about fancy third-party overclocking tools. For the first time ever, AMD's new Radeon Software Crimson driver packs everything enthusiasts need to tweak, fine-tune, and crank up their graphics cards—though only if you buy a new card sporting AMD's next-gen Polaris GPU.
One of the $200 Radeon RX 480's biggest headlining features is actually a new Radeon Crimson overclocking tool dubbed Radeon WattMan. The ability to overclock your Radeon card with AMD-supplied software isn't completely new: Prior to WattMan, AMD offered its less robust OverDrive tool since about 2007. (Older Radeon graphics cards still default to OverDrive, even if you install the latest Radeon Crimson software.)
But while OverDrive offered control over clock speeds, the PowerTune limit, target temperatures, and fan speeds, it used a rather limited slider-based interface. Additionally, OverDrive's controls weren't very granular and lacked important features like core and memory voltage control, individual clock state control, and real-time graphing of all of these performance variables. These issues forced most overclockers to turn to robust third-party software like MSI's Afterburner and EVGA's Precision X instead.
But AMD's Radeon WattMan remedies all of these shortcomings. Here's how to use it.
Getting around WattMan
Working with WattMan is dead simple. Open up AMD's Radeon Settings app and click the Gaming tab, then Global Settings, and finally the Global WattMan tab. You'll be greeted by the interface shown below.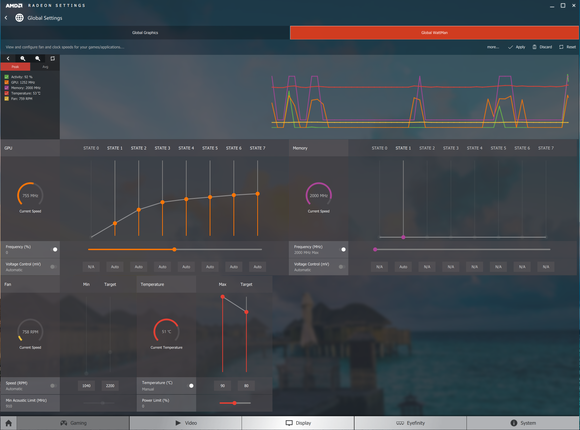 WattMan's most striking feature revolves around its real-time graphing, dubbed "Histogram," which maps out your RX 480's activity level, current core clock speed, memory frequency, temperature, and fan speed. In other words, every crucial measurement you need to monitor while overclocking your graphics card.

Best of all, if you see something weird on the graph—like a big clock speed drop—hovering your mouse over the issue will bring up the stats for that specific point in time. If you're trying to troubleshoot a cooling or performance problem, WattMan's graphing feature is a godsend.
A thoughtful twist on this performance-tracking feature is the ability to use it globally or with only specific applications. AMD's per-app Profile settings allow you to use WattMan to profile performance while a specific game is running for up to 20 minutes at a time. Select the game you want to profile, enable the Histogram option for it, and WattMan will begin recording when you launch the game.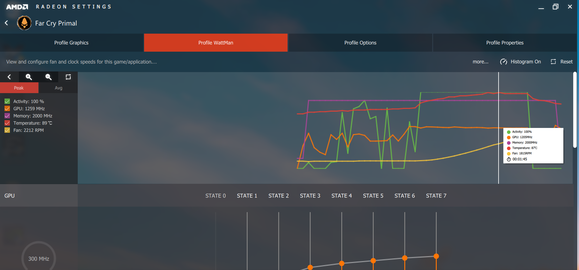 A histogram tracking the Radeon RX 480's behavior in Far Cry Primal's specific Profile WattMan settings.