How to create a bootable macOS Sierra installer drive
Instructions for making an external drive that you can use to install macOS Sierra.
Apple uses its App Store to distribute its software, like new Mac operating systems. It's convenient, but sometimes it can take a while for a download to finish. And if you have multiple Macs, it's inefficient to download the new OS to each and every Mac.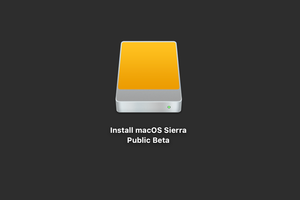 That's why I like to make a bootable external drive for the sole purpose of installing the Mac operating system. When I need to tend to a bunch of Macs, it's much faster to use a bootable drive instead of going to each Mac, launching the App Store, searching for the operating system, downloading it (after entering my Apple ID), and then running the installer.
You can create a bootable USB flash drive with the macOS Sierra public beta that's now available. The installer software will take up nearly 5GB of storage space. Here's how to create a bootable macOS Sierra installer drive.
(Note: This tutorial uses the Sierra Public Beta. It will be updated when the final version of Sierra is released this fall.)
Download the Sierra beta installer
To get the Sierra beta in the first place, you need to sign up for the Apple Beta Software Program. Apple makes the beta available through the Mac App Store, and when you download the installer, it goes into your Applications folder.
If you already joined the program, downloaded the beta, and installed Sierra on your Mac, you might be surprised to see that your OS installer software is no longer in the Applications folder. Apple removes it after you perform an installation. You need that installer to create a bootable drive.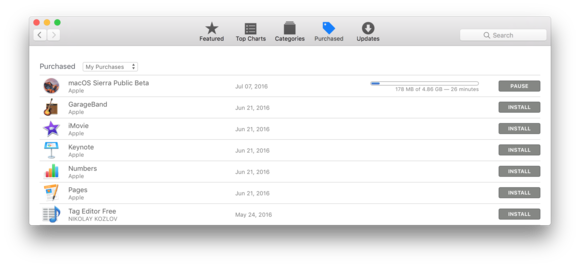 You can download the Sierra Public Beta installer again. Look for it in Purchased
Don't fret. You can download the installer again through the Mac App Store. Launch the App Store app, and then click on the Purchased tab. You should see an entry for the beta installer in your list of purchased apps. Click on the Download button, and your Mac will download the installer to your Applications folder. If it automatically launches after download, quit the installer.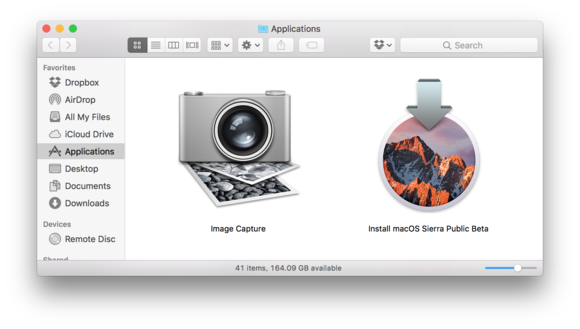 Keep the installer in the Applications folder.
Get an external drive
You can use a USB flash drive or a hard drive with room for the installer software. I've used different drives with success, including a VisionTek 120GB USB 3.0 Pocket Solid State Drive ($92 on Amazon) and an old 8GB Iomega Micro Mini Hard Drive.