How to build a cheap but powerful gaming PC for $500
She's got it where it counts, kid.
Fan splitter
…Yup. SilverStone's fan splitter will set you back a mere $4.39 on Amazon. I like this one because it supports PWM fan controls, but any splitter will do, really.
Memory
Modern gaming PCs need at least 8GB of memory. Since this build's motherboard only supports a maximum of two memory sticks, a single 8GB stick of GSkill's Ripjaws V DDR4 memory ($35 on Newegg) will do the trick while leaving room to potentially add another stick to double your capacity in the future.
Case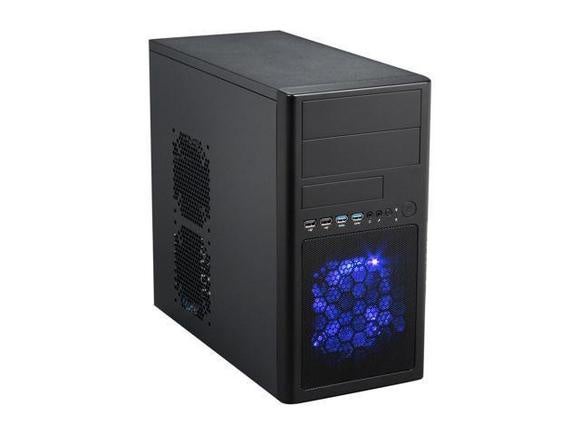 Here's the other major compromise. Dropping all that money on the graphics card and processor doesn't leave much wiggle room for case selection. The Rosewill Line-M ($33 on Newegg) is a tiny, ultra-affordable case with a couple of features you don't normally find in tiny, ultra-affordable cases—namely a pair of front-size USB 3.0 ports and two preinstalled case fans. That makes it the clear pick for this build.
Newegg reader reviews say the case is made from flimsy steel, which is to be expected in a chassis this cheap. There's also no motherboard tray to route your wires behind, so internal cable management will be difficult. Fortunately, the Rosewill Line-M features solid steel sides rather than windows so you won't have to stare the rat's nest in the face.
I considered selecting a case with an integrated power supply, such as the Rosewill R519-BK ($55 on Newegg), to shave off a few extra bucks, but decided against it for a few different reasons. First, virtually all budget cases (including the R519-BK) only include a single 120MM rear case fan. With the Radeon RX 470 roaring inside, you'll want two—an intake and an outtake. The $33 Line-M offers that despite its budget price. Likewise, the Line-M features that handy pair of front-facing USB 3.0 ports, while the R519-BK and the vast majority of other budget cases only offer USB 2.0, if anything at all.
I also loathe the idea of relying on a cheap no-name power supply, even in a budget build. A bad PSU can blow up your entire system if it fails, and cheap-o ones definitely can fail. While you may be able to save a (scant!) few bucks on a system with an internal power supply, the risk outweighs the reward.
Power supply
Even though the EVGA 430 W1 ($32 on Amazon) lacks 80 Plus Bronze certification, EVGA is a trusted name in power supplies. And yes, 430 watts should be more than enough to power this $500 gaming PC. Indeed, when I input this PC's specs into the OuterVision wattage calculator it recommended a 282W power supply. That's a bit stingy in our opinion, but PCWorld's hardware-stuffed GPU test system only drew 248W from the wall at peak when equipped with XFX's Radeon RX 470.
Previous Page 1 2 3 4 5 6 Next Page