How Intel turned Thunderbolt from a failure into a success
A year after Intel announced Thunderbolt 3, the company's vision of 'one cable to rule them all' doesn't seem so laughable.
While consumers just didn't give two damns about Thunderbolt 2, vendors are seeing increasing consumer interest in Thunderbolt 3, and the feature gives them an easy way to differentiate their products.
HP's Mike Nash, for example, said he sees Thunderbolt 3's main appeal in corporate laptops that will let users plug in a single cable to charge and dock it at the same time. Plus the tiny USB-C port allows for a thinner device profile.
An even bigger achievement might be Thunderbolt 3's ability to let a laptop run external graphics. In theory (as no one has shipped an external graphics cabinet yet), this would give a super-thin laptop real gaming chops.

Akitio's Thunder3 PCIe lets you run a stupidly fast PCIe drive in an enclosure hooked up using Thunderbolt 3. Credit: akitio
There are still doubters
Not every PC vendor I spoke with thought Thunderbolt 3 was a slam dunk, though. One vendor, who asked not to be identified, said it makes sense on laptops but most desktops simply have no use for it because they already exceed its capabilities.

On desktops, use of the Thunderbolt 3 chip is rare. Surveying the motherboard scene, I've seen Thunderbolt 3 on only one or two models. More cost-conscious vendors, such as Asrock, don't seem to have any Thunderbolt models.
"I wouldn't say Thunderbolt has won, as we now have USB 3.1 to wrestle away the limited scope of use it had for motherboards—storage," the vendor said. "Thunderbolt is merely doing the one thing it does best, and that's allow something like a graphics dock to be used on a notebook."
The vendor said challenges with getting Intel's hardware certifications also slowed them down.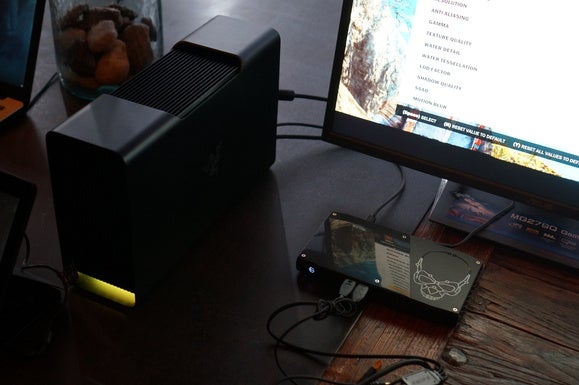 Intel's NUC can use its Thunderbolt 3 to connect to an external graphics cabinet.
A game changer
These are all things Intel is working on, said Intel's Jason Ziller, who oversees the technology for the chip giant. While unwilling to agree that Thunderbolt 1 and 2 were duds, Ziller wholeheartedly agrees there's been a sea change of acceptance from PC vendors with Thunderbolt 3.
"(The USB C port) was kind of a game changer, and we're seeing a complete shift in the PC industry on their view of that port," Ziller said.
Intel is also opening a center in Taiwan to approve devices faster. Ziller said a tower may not need Thunderbolt 3's capability right now, but a small-form-factor or NUC-style mini-PC could benefit from the performance and external graphics capability of Thunderbolt 3.
Previous Page 1 2 3 4 Next Page