How Intel turned Thunderbolt from a failure into a success
A year after Intel announced Thunderbolt 3, the company's vision of 'one cable to rule them all' doesn't seem so laughable.
Given the challenges with getting Thunderbolt certified, its high costs, and the low demand, you can see why everyone predicted a FireWire-like future for it. FireWire was Apple's high-speed interface of the 1990s that went head-to-head with USB and lost. Even though FireWire was technically superior, USB won on the cost and ubiquity fronts. In that battle, Intel backed USB while Apple backed FireWire.
USB 3.1 improvements didn't help
USB, meanwhile, didn't stand still. Two years after Thunderbolt first appeared at 10Gbps, USB's spec doubled to 10Gbps. It also became capable of charging high-powered devices. Here's the cherry on top: It adopted a tiny reversible plug called USB Type C. USB was even updated to allow the carrying of "alternate mode" signals, so a vendor could plumb DisplayPort through a USB C cable.
With all that going for USB 3.1, many wondered why anyone would even bother with Thunderbolt 2 and its funky Mini DisplayPort connector and costly cables? Indeed, by 2015, most had written off Thunderbolt as another failure.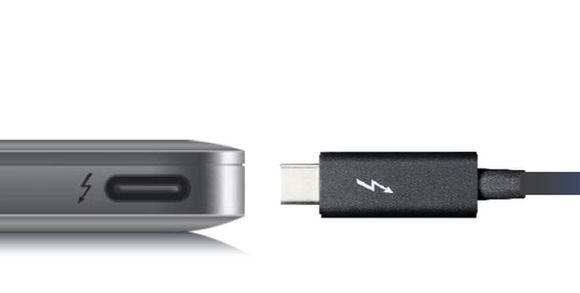 Intel's adoption of USB Type C is credited with Thunderbolt's recent success.
USB Type C to the rescue
With Thunderbolt seemingly on the ropes, Intel had one last move—one that likely put the technology on a winning path at last. At last year's Computex, to the surprise of many, the company announced a faster version of the spec called Thunderbolt 3, with speeds up to 40Gbps—and it could do it over the new USB Type-C connector, instead of the funky MDP cable.
Intel essentially uses the same alternate mode that DisplayPort does to pass Thunderbolt signalling over PCIe. And by integrating a USB 3.1 10Gbps controller into the Thunderbolt 3 controller, it could fully support USB 3.1 too.
What Thunderbolt 1 and 2 couldn't do, Thunderbolt 3 has finally achieved in its vision of "one cable to rule them all."
A single USB Type C connector could support: DisplayPort, PCIe, high-wattage charging, and USB's fastest spec.
Even pricing, which was always a controversial topic with Thunderbolt 1 and Thunderbolt 2, seems to have been nullified. Intel's public price for its Thunderbolt 3 chips is about $8, with volume pricing closer to $5, according to customers I've interviewed. That low pricing has driven down the cost of the primary competitor, the Asmedia USB 3.1 controller, with one report putting it well under $3.
Numerous OEMs, though, told me it's not just the price that's changed their mind on Thunderbolt 3; it's the move to USB-C and giving consumers a port that can do it all.
Previous Page 1 2 3 4 Next Page