How I went from zero to overclocking in 30 minutes
Intel's XTU app makes overclocking easy and a lot of fun.
If you think overclocking is something that only hardcore PC enthusiasts can get into, think again. At Computex in Taipei last week I got the chance to try overclocking Intel's latest processor, the 10-core Broadwell-E chip, and it was a lot of fun.
Thanks to Intel's XTU (Extreme Tuning Utility) overclocking app, doing some basic overclocking was easy. But beware: If you're the type of person who likes a challenge and enjoys tinkering with computers, it can get addictive fast.
Overclocking is the process of running a processor and other components faster than their rated speed. It's done to get more performance for heavy-duty applications like gaming and video processing, and there's even a competitive side to it, with international rankings and competitions.
To get started, you need a motherboard and processor than can be overclocked. Among Intel chips, that means a processor that ends in a "K" or "X." Intel's XTU provides a point-and-click interface for overclocking that can be used to tweak numerous internal settings to get every last bit of power.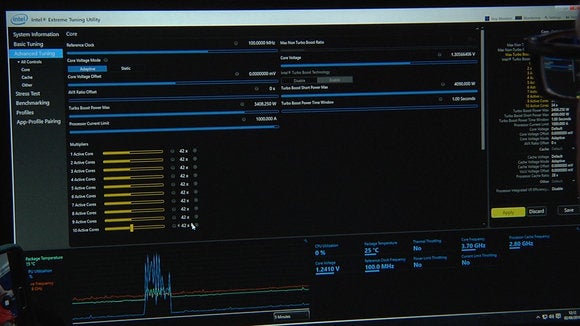 Overclocking a PC using Intel's XTU application. Credit: Martyn Williams
When I first sat down at the PC, I used XTU to run a benchmark to find out the basic performance, which was 2,142 points on the XTU scoring system.
With that knowledge, I set about tweaking, and my starting point was the processor's multiplier.
This is the number of times the motherboard's internal clock is multiplied to get the speed for the processor. The computer I was using had an initial internal clock of 100MHz and a basic multiplier of 35x, so the chip was running at 3.5GHz.
A few clicks of the mouse had the multiplier at 42x and the chip running at 4.2GHz. I had also adjusted the voltage being applied to the chip core so that it could handle the extra power, but I needed to be careful that I didn't apply too much and overheat the chip.
With this initial adjustment, it all seemed stable enough, so I ran the benchmark again: 2,577. That's a 20 percent boost in performance with nothing more than a few clicks.
I kept increasing the multiplier and the benchmark kept rising. At 43x I managed 2,608, and at 44x it was at 2,651 -- a 24 percent increase from the starting point.
Things started going wrong at 45x when I experienced a blue screen. Something wasn't performing well, so I rolled back to 44x and set my sights on other adjustments.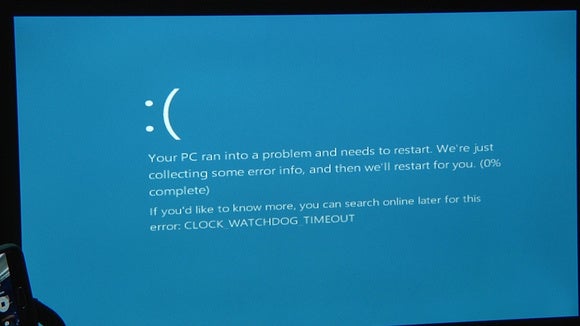 A blue screen of death experienced while overclocking a PC. Credit: Martyn Williams