Hands-on with Asus ROG G752 and GeForce GTX 1070
It's no joke, you can now get GeForce GTX 980 Ti and original Titan X performance in a laptop!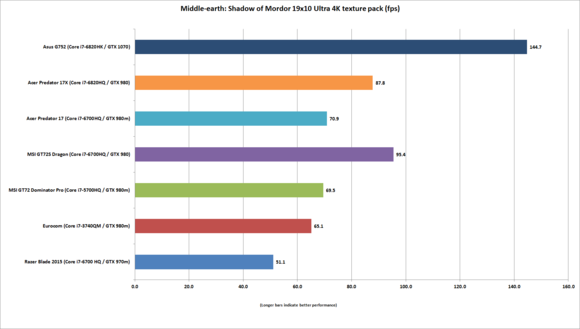 Holy smokes! It's no typo. No, we ran it multiple times and the GeForce GTX 1070 lays down the pain.
4K performance
The ROG G752 is equipped with a 75Hz G-sync panel with a resolution of 1920x1080. Even though our review of the desktop GTX 1070 said its comfort zone is at 2560x1440 resolution, I decided to hook up our ROG G752 to a 4K panel to see how it performs. For reference, I did the same with the Acer Predator 17X I recently reviewed.
On the left is the burly Acer Predator 17X with a GeForce GTX 980. On the right is Asus' new ROG G752 with a smoking fast GeForce GTX 1070.
The GeForce GTX 1070 clearly has an advantage in Middle-earth: Shadows of Mordor at 1920x1080, and that advantage holds at Ultra 4K resolution too. As King of the Hill's Peggy Hill would say after beating you at Boggle: "Booyah!"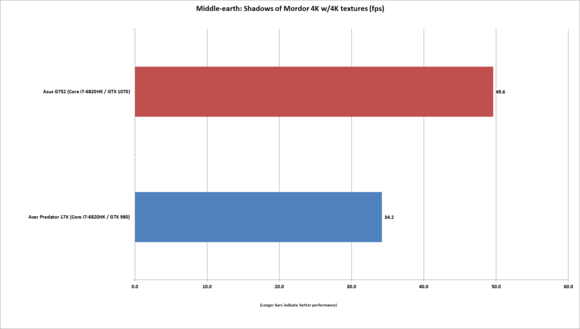 The GeForce GTX 1070 spanks the GeForce GTX 980 in Middle-earth.
Rise of the Tomb Raider 4K
Next up is Rise of the Tomb Raider, which still sees a wide advantage in favor of the GeForce GTX 1070 GPU. You have to wonder how the GeForce GTX 1080 would do here.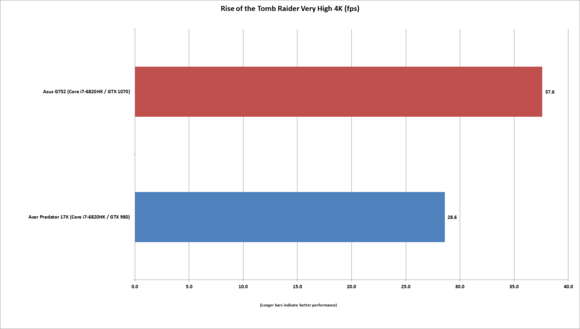 Rise of the Tomb Raider is a more intensive graphics load than Tomb Raider.
3DMark FireStrike Ultra
3DMark FireStrike Ultra is a synthetic test, and the Ultra pushes it to 4K resolution. The GeForce GTX 1070 is in front, but you knew that, right? I also dug up the score our Founders Edition GeForce GTX 1070 hit in the same benchmark. To be fair to the Asus laptop with its quad-core chip, our GPU zero point uses an 8-core CPU, which 3DMark factors into its final score. Overall, it's a good showing.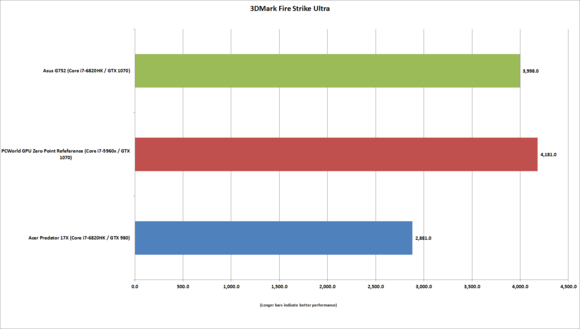 Here's how the laptop GTX 1070 laptop compares to a desktop GTX 1070.
Conclusion
There's really only two facts you should walk away with here. First, there's a pretty big power efficiency to be had in the GeForce GTX 1070 laptop GPU. It's enough that you can shed the huge power brick, for, well, a less-huge power brick.
The second is damn, the GeForce GTX 1070 is fast. You're essentially getting the same performance of a GeForce Titan X or GeForce GTX 980 Ti in a laptop. Just a year ago, you'd be happy to do that using an external graphics dock. Today, you can get that performance inside of a laptop. That's a victory for all gamers.