Hands on: Fuhu's new Square HD kids' action camera uses a smartphone as a viewfinder
Fuhu's new Square HD action cam for kids is an inexpensive, kid-friendly GoPro--and the new version streams live images of what it sees to your phone, allowing you to compose your shots.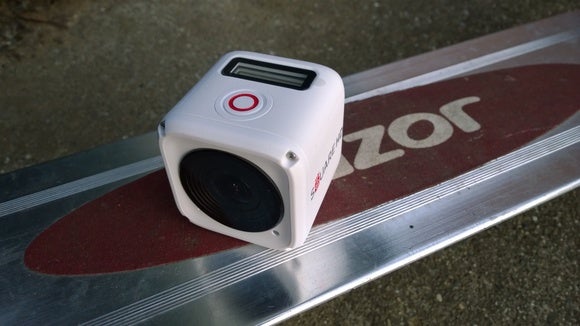 Fuhu, the makers of the nabi tablets for kids, on Friday expanded further into the action camera line with the latest version of the nabi Square HD, a $169 cube that will probably remind you of the first-generation GoPro Hero.
Although it's designed to be kid-resistant -- waterproof to 30 feet, droppable 6 to 8 feet, and stored inside a plastic case that can be attached to a variety of mounts -- the latest Square HD is built with an eye toward the future. Nabi's first-generation Square HD, priced identically, was a bit more oblong and shot at resolutions up to 1080p. With the latest model, you can shoot in 4K resolutions (albeit at 15 frames per second) or drop the recording speed to 120 fps at 720p resolutions, for slo-mo playback.
But the lower price point does come with the same catch as the first-gen Square HD's: there's no viewscreen or display on the camera. With this model, Fuhu gets around this via Wi-Fi Direct, which can establish a real-time streaming connection to an Android or iOS phone or tablet, or Fuhu nabi tablet. Kids will then be able to see what they shoot, as it happens.
"We're going after the kids' first moments, through the eyes of the child," said Lisa Lee, senior vice president of marketing at Fuhu, in an interview. Fuhu begins shipping the Square HD next week, together with a small number of mounts that will cost around $20.
Why this matters: Action cameras like the GoPro series worry less about framing the shot than about simply keeping up with extreme sports and conditions -- and fans of the first-gen Square HD seem to love its video capabilities. Keep in mind, though, that this new model allows your kids to use your expensive smartphone as a viewfinder. Didn't you buy the kids a rugged camera to avoid this very scenario?
The answer, of course, is that Fuhu doesn't want you to use your camera, but one of the company's own ruggedized tablets. Going forward, Lee said, all of Fuhu's tablets will come with a Dream Pro Editor app, which can stitch together clips as a light video editor. (This won't be available in the Android or iOS apps, although you can still download clips from the camera to edit as you will.)
Adult specs inside a kid's toy
Like the Fuhu nabi BigTab we tried last year, the Square HD may not be totally kidproof, but it does a good job of trying to convince you that it is. Don't worry about dropping it, especially when it's stored within its rugged plastic housing. It's a perfect cube measuring 1.73 inches across and weighing a bit more than 1.1 pounds.