G.Skill Ripjaws SR910 review: Fancy features don't always make for a worthwhile headset
The SR910's design and sound issues tank this headset's appeal.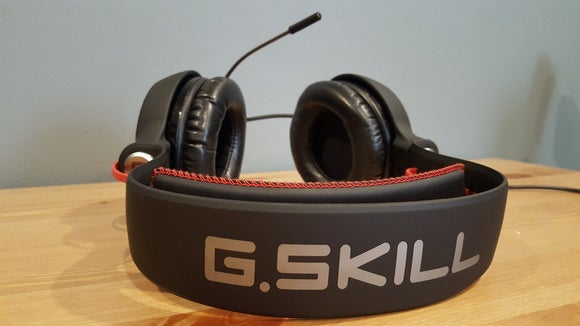 And heaven forbid you touch some of the other software tweaks that G.Skill provides. You can change the virtual room size to add or subtract reverb—settings like "Stone Room" or "Hangar." Regardless of the setting, the post-processing leaves it sounding like you're playing music through grandpa's old AM radio.
Gaming performance is slightly better, insofar as it's usually harder to notice distortion or compression in sounds like gunshots, footsteps, and the like. It's still not great, though, and I'd place it towards the bottom of the headsets I've reviewed.
To its credit, G.Skill does include some handy features. I like that the headset comes with a control box included. While I'd prefer smaller inline controls, the volume knob is handy and it's easy to adjust EQ settings on-the-fly. Click-to-mute is a superfluous feature, but it's nice to have.
And the microphone is retractable, so props to G.Skill for hitting par on that one. It's not a great microphone—I felt like I was yelling into it most of the time, and the audio output is tinny. But at least it gets out of the way when you don't need it.
Bottom line
I can't recommend the SR910. There are plenty of headsets that are solid, middle-of-the-pack contenders—headsets that I wouldn't choose as my daily driver, but which I could see someone selecting for the design, or because they like this or that feature.
The SR910? Not compelling. Lackluster sound quality, a gets-the-job-done mic, and a tension band apparently designed for someone with a mammoth-sized melon do not a classic headset make. Hopefully G.Skill's sophomore effort fares a bit better.
Previous Page 1 2 3