G.Skill Ripjaws SR910 review: Fancy features don't always make for a worthwhile headset
The SR910's design and sound issues tank this headset's appeal.
It's a shame, because I typically enjoy these suspension-band designs. They're only suitable as gaming headsets (and not as streetwear), but they're comfortable and make a nice showpiece. I just can't imagine who the SR910 was built for. I can admire its swooping red-and-black curves from a distance, but I'd rather not put it on.
Oh, and this wired headset's cable is just plain ol' rubber—no fancy fabric sheath here.
A bevy of drivers
If the SR910 sounded good, that would offset some of its design issues. Unfortunately, it's one of the weakest headsets I've used in a while.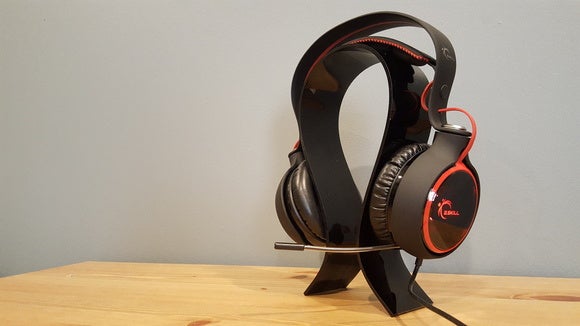 The SR910 has a decent gimmick. Many headsets nowadays rely on virtual (software-driven) 7.1 surround, but the SR910 features five drivers per ear for "real" 7.1. There are a couple other gaming headsets that do this, like the Razer Tiamat and the Asus Strix.
Why don't more companies do this? Well, there are a couple reasons:
1) Headsets don't really need "real" 7.1. (They don't really need virtual 7.1 either, but that's a discussion for a different day.) On any headset, the drivers are so close together and the earcups are so small that cramming in five per ear, as with the SR910, doesn't provide any real benefit. The performance is on par (or worse) than just using a regular stereo headset with a decent sense of directionality—like, say, the HyperX Cloud.
2) Manufacturers skimp on the drivers, in order to fit multiple ones inside an earcup and to make the headset affordable. With a standard stereo headset, half the driver space and budget goes to each driver. Put in 10 and you've now drastically reduced how much you can spend per driver and still keep the headset a decent price.
These factors are evident when you put on the SR910. The tinny, washed-out sound of this headset overshadows whatever you gain by having 10 drivers. Listening to music is a particular chore, with the SR910 generally sounding worse than the $8 pair of Panasonic earbuds I wear around the city.
The sound is a little less flat than earbuds—that's those 10 drivers at work—but the bass has no punch, the mids sound grainy and overly compressed, and the highs are almost nonexistent.
G.Skill has software that accompanies the SR910, and I've tried tweaking the sound in dozens of ways. I've wiggled the bass up, but it just got louder instead of fuller. I've tried boosting the mids, but it just sounded more compressed. I rolled off the highs, but that left recordings sounding flat. Whether in stereo mode, Quadraphonic, 5.1, or 7.1, the SR910 just doesn't sound great. Certainly not good enough to justify its $160 list price, though its standard $80 Amazon listing does seem more in line with what I'd expect.