G.Skill Ripjaws SR910 review: Fancy features don't always make for a worthwhile headset
The SR910's design and sound issues tank this headset's appeal.
A few months ago, my look at G.Skill's debut mouse, the Ripjaws MX780, left me impressed. G.Skill created a solid performer at a below-market price during its first time out the gate.
So when it came time to review G.Skill's debut headset, the USB-enabled Ripjaws SR910 (available on Amazon), I had high hopes. If all went well, we could be looking at a HyperX Cloud type of surprise.
Built for giants
Sadly, the SR910 isn't the breakout hit that the Cloud was. The most pressing problem is that this headset is huge. I already have a pretty big head—I tend to max out (or come close to maxing out) the adjustable bands on most headsets. But the SR910 is too large and loose for my head, so I can only imagine how poorly it would fit on a smaller noggin.
The SR910 borrows the suspension band design made famous by SteelSeries's Siberia line (and recently appropriated by Kingston's HyperX Cloud Revolver). With exposed wiring that needs to constantly stretch and retract, this style is quite a bit more fragile than a traditional headband. The most common issue is that the ear not directly attached to the input wire will stop working.
This design does have a benefit—incredible comfort. The headset almost seems to float, like it's barely touching your head.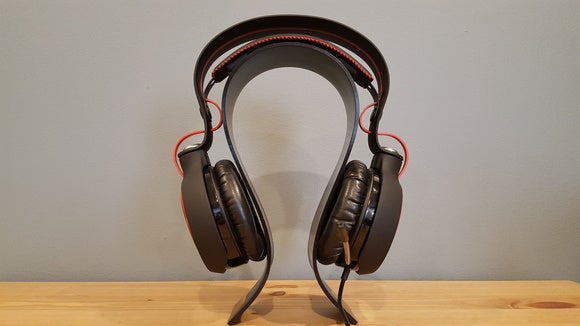 But it also adds to the SR910's fit issues. Most of these suspension-band designs counter the floating band with a bit of pressure on the jaw. Not a ton, but enough to hold the headset in place. The SR910 doesn't have nearly enough tension to stay in place, and when combined with its greater-than-average weight, the result is a headset that slips downward until it comes to rest on the tops of my ears.
The situation is exacerbated by the fact that the headset is weirdly tall. When I put on the HyperX Cloud Revolver or any of SteelSeries' Siberia line, I don't quite push the headset to the metal band, but it's close. With the SR910, the top band still sticks up about an inch and a half, causing the headset to slip downward or tip over if I look down.
Because it's all of a piece, there's no way to adjust the headset to make it smaller. Thus I found myself having to readjust the SR910 upwards every few minutes, like pushing a pair of glasses up the bridge of my nose. Otherwise the weight would make the tops of my ears sore.