Go inside MakerBot's new 3D printer factory and see where people build the machine
We take a tour of MakerBot's brand new 50,000 square foot factory.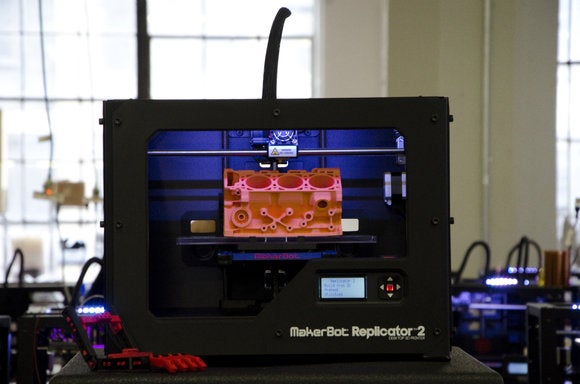 Late last week, MakerBot Industries held the grand opening ceremony for its new 50,000-square-foot factory in the Brooklyn Armory Terminal. But unlike just about every factory you've ever seen, it takes human hands to build these machines that can 3D-print just about anything.
Come with us as we check out MakerBot's new digs to see how the sausage—er, 3D-printing machine gets made.
New York City Chief Digital Officer Rachel Haot, Brooklyn Borough President Marty Markowitz, and MakerBot CEO Bre Pettis cut the grand opening ribbon.
Four years ago, MakerBot CEO Bre Pettis built the very first MakerBot machine with Adam Mayer and Zach Hoeken at the NYC Resistor hackerspace. Since then, MakerBot has moved its production facilities from one tiny office to the next, with last one being a 5000-square-foot workspace.
MakerBot's latest factory is about 10 times that size, and Bre plans on ratcheting up production even more. The MakerBot factory currently houses a staff of 267 employees, and the company wants to hire another 50 builders in the coming months.

The final assembly area. In this factory, people build the machines.
The one thing that hasn't changed about the way MakerBot builds its printers over the years, however, is that it takes human hands to assemble these machines. According to MakerBot Production Foreman Steven McGriff, it takes approximately 45 minutes for a single Replicator 2 printer to make it through the entire assembly process.
The process begins with workers who put together the subassemblies of the machine's moving parts. This includes the rail system that the extruder head moves along, the elevated "Z-stage" platform the the print actually sits on as it prints, and the computer board that controls the whole thing.
MakerBot doesn't use a typical assembly line to build its 3D printers; instead, workers pull together a complete kit of parts that they send over to the final assembly area. There, another team of MakerBot builders assemble the machines in a process that takes around 20 minutes.
A series of Replicator 2 machines get their final check.
Before MakerBot ships the machines to customers, it runs the printers though a final inspection that involves a print verification process and a multi-point check to make sure everything is in place. If it passes the test, the printer gets boxed up and sent out to its new owner.
Why humans?
Why all the manual labor? Some of the workers I met say it's partly a matter of Brooklyn pride; others say it's a job that requires flexibility and manual dexterity to work with small parts since nothing comes preassembled. But no matter what, building MakerBots by hand is cool.