Gigabyte's newest Brix system will expand tiny gaming-PC options later this year
Gamers seeking a compact, high-performing PC will have a solid alternative to Intel's NUCs.
Interestingly, Gigabyte made no mention of a bare-bones version of the Brix Gaming UHD during its briefing. For a line of systems that have historically required the purchase and installation of your own parts, a move to push these PCs as prebuilt systems would be a change. (We have a question out to Gigabyte about the availability of a bare-bones version of the Gaming UHD, and will update this story with any additional information.)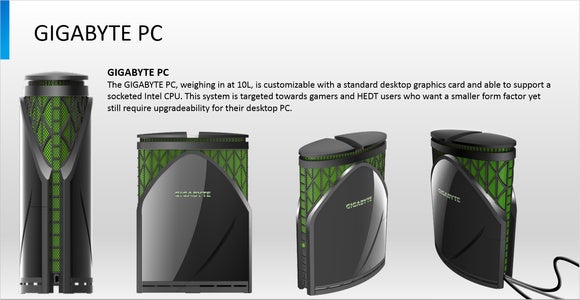 Gigabyte also gave a release date for the equally gaming-friendly Gigabyte PC, which the company had also revealed at this year's Computex. Slated for a launch in late summer, this system is a larger, 10-liter machine that supports a socketed processor and a full-length graphics card. (When asked about actual card lengths supported, a Gigabyte spokesperson said an Nvidia GTX 980 should fit.) Gigabyte says the focus for this system will be prebuilt configurations, which will depend on region and retailer. Pricing will start at $1,500 for entry-level systems, and will feature current components.