Fujitsu now making DRAM killer with 1,000x performance boost
But Nano-RAM faces limitations from the DDR4 interface, even as it promises limitless longevity
Currenty, NRAM can be produced for about half the cost of DRAM, Schmergel said, adding that with greater densities production costs will also shrink -- just as they have for the NAND flash industry.
"My understanding is that Nantero plans to bring NRAM to the market as an embedded memory in MCUs and ASICs for the time being," Jim Handy, principal analyst with semiconductor research firm Objective Analysis, said in an email reply to Computerworld. "This is a good strategy, since flash processes are having trouble keeping pace with the logic processes that are used to make MCUs and ASICs.
"An alternative technology like NRAM then stands a chance of getting into high volumes on the back of the MCU and ASIC markets," Handy added. "After that, it could challenge DRAM, but it will have some trouble getting to cost parity with DRAM until its unit volume rises to a number close to that of DRAM."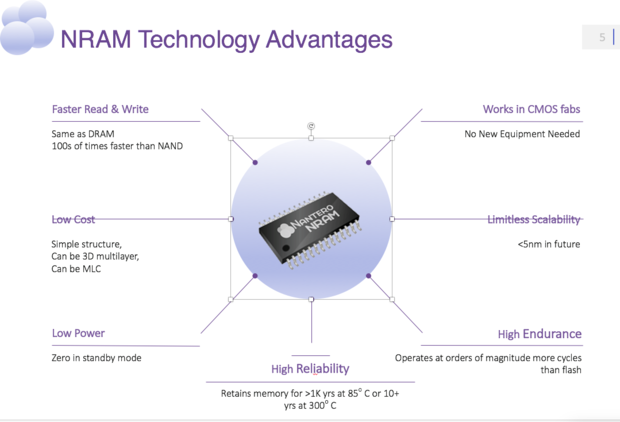 Should DRAM stop scaling, though, NRAM will encounter a big opportunity since it promises to scale at lower prices than DRAM will be able to reach, according to Handy.
Because of its potential to store increasingly more data as its density increases, NRAM could also someday replace NAND flash as the price to produce it drops along with economies of scale, Schmergel said.
"We're really focused in the next few years on competing with DRAM where costs don't need to be as low as NAND flash," Schmergel said.
One big advantage NRAM has over traditional flash memory is its endurance. Flash memory can only sustain a finite number of program/erase (P/E) cycles -- typically around 5,000 to 8,000 per flash cell before the memory begins to fail. The best NAND flash, with error correction code and wear-leveling software, can withstand about 100,000 P/E cycles.
Carbon nanotubes are strong -- very strong. In fact, they're 50 times stronger than steel, and they're only 1/50,000th the size a human hair. Because of carbon nanotubes' strength, NRAM has far greater write endurance compared to NAND flash; the program/erase (P/E) cycles it can endure are practically infinite, according to Schmergel.
NRAM has been tested by Nantero to withstand 1012 P/E cycles and 1015 read cycles, Schmergel said.
In 2014, a team of researchers of at Chuo University in Tokyo tested Nantero's NRAM tested it up to 1011 P/E (program/erase) cycles which represents more than one billion write cycles.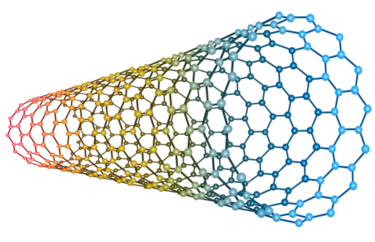 The geometric construct of a carbon nanotube.
"We expect it to have unlimited endurance," Schmergel said.
Another advantage is that NRAM is being built using the DDR4 specification interface, so it could sport up to 3.2 billion data transfers per second or 2,400 Mbps -- more than twice as fast as NAND flash. Natively, however, the NRAM's read/write capability is thousands of times faster than NAND flash, Schmergel said; the bottleneck is the computer BUS interface.