Fujitsu now making DRAM killer with 1,000x performance boost
But Nano-RAM faces limitations from the DDR4 interface, even as it promises limitless longevity
Fujistu Semiconductor Ltd. has become the first manufacturer to announce it is mass producing a new RAM that boasts 1,000 times the performance of DRAM but stores data like NAND flash memory.
The new non-volatile memory known as Nano-RAM (NRAM) was first announced last year and is based on carbon nanotube technology.
Fujitsu Semiconductor plans to develop a custom embedded storage-class memory module using the DDR4 interface by the end of 2018, with the goal of expanding the product line-up into a stand-alone NRAM product family from Fujitsu's foundry, Mie Fujitsu Semiconductor Ltd.; the stand-alone memory module will be sold through resellers, who'll rebrand it.
According to Nantero, the company that invented NRAM, seven fabrication plants in various parts of the world experimented with the new memory last year. And other as-yet unannounced chipmakers are already ramping up production behind the scenes.
Fujitsu plans to initially manufacture the NRAM using a 55-nanometer (nm) process, which refers to the size of the transistors used to store bits of data. At that size, the initial memory modules will only be able to store megabytes of data. However, the company also plans a next-generation 40nm-process NRAM version, according to Greg Schmergel, CEO of Nantero.
Initially, NRAM products will likely be aimed at the data center and servers. But over time they could find their way into the consumer market -- and even into mobile devices. Because it uses power in femtoJoules (1015 of a Joule) and requires no data clean-up operations in the background, as NAND flash does, NRAM could extend the battery life of a mobile device in standby mode for months, Schmergel said.
Fujitsu has not specified whether its initial NRAM product will be produced as a DIMM (dual in-line memory module), but Schmergel said one of the other fabrication partners "is definitely doing just that...for a DDR4 compatible chip in product design.
"There are several others [fabricators] we are still working with, and one, for example, is focused on a 28nm process and that's a multi-gigabyte stand-alone memory product," Schmergel said, referring to the DIMM manufacturer.
Currently, NRAM is being produced as a planar memory product, meaning memory cells are laid out horizontally across a two-dimensional plane. However, just as the NAND flash industry has, Nantero is developing a three dimensional (3D) multilayer architecture that will greatly increase the memory's density.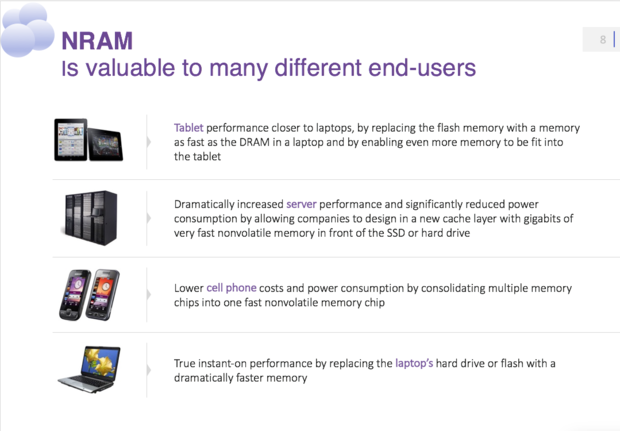 "We were forced to go into 3D multilayer technology maybe sooner than we realized because customers want those higher densities," Schmergel said. "We expect densities will vary from fab to fab. Most of them will produce four to eight layers. We can do more than that. Nanotube technology is not the limiting factor."